Fundraising Events for 2006
updated 20/8/06

---
There are a number of events taking place this year to support the team - The Wastwater challenge (full length underwater), Kern Knotts Auction (Auction of new clothing gear at the Wasdale Head Hotel - reduced prices on donated clothing and gear at the shop) and Lingmel Dash - all happening on the weekend of 21 July 2006. When further details are available I will update this page with photos.
---
This year we have set ourselves a target of £18,000 to put towards our operational costs plus replace our ageing Propaq and other items of essential medical equipment - the Propaq is a key bit of life monitoring equipment, essential for being able to keep a check on the health of the casualty as we bring them off the mountain. It can measure and record oxygen levels in the blood, blood pressure, pulse rate and ECG.
A brand new Propaq costs around £15,000 to £18,000 but we may be able to purchase a refurbished piece of equipment at less than £10,000 or possibly source a second hand unit for even less- whatever solution we finally arrive at, it will require an increase in our funds - It is a lot of money but when our aims are to save life and alleviate distress I cannot think of a good reason not to proceed.
The approach this year is to focus our fundraising around a major weekend so you can get it in your diary early and book your room at the Wasdale Head Hotel or plot on the campsite - we really need your support this year; you buy the kit and we will carry it up the mountain and do the rest - you can't ask for a better deal than that. Any additional ideas for raising money will be favorably considered, especially if it can be done with minimal team members involvement as we will all be heavily tied up with the above events.
Many thanks
Richard Warren
On behalf of the Team
Programme for the weekend see bottom of page

Seascale Stompers have raised a fantastic £300 as a result of their line dancing events. Well done to you all and please send in a photo so I can add it here
---
Mark Storey (WMRT Supporter) has completed the 2006 Scottish Coast to Coast (196 miles) 12th to 26th May 2006 - see details here Mallaig to Stonehaven - contact Mark ms@hollybenson.co.uk
---
Dave Parker's sponsored Bikeathon, 26th and 27th May 2006, Walney to Wearside (approximately 150 miles) in aid of the fundraising appeal - see details here
---
Charles Potter and Rob Watkins's SWIMATHON 22nd July 2006 - to swim underwater the full length of the lake from top to bottom - for pictures and details see here
---
Flight Simulation at Wasdale Head - want to see how you can manoever a fighter jet through the lakeland passes? see photos here - come on up and try your hand - if you are good we will put your name forward to RAF Boulmer as a budding pilot
---
Laura Smith from Furness College has completed the Keswick to Barrow walk and raising money for the team. Laura completed the walk for the 7th time in 10 hours 36 mins, finishing 522nd out of 1348 finishers - a fantastic time Laura - we are very impressed - see Laura's photos here - Laura is the second girl on the right, wearing a green headband photo 1 and photo 2
---
The Lingmell Dash Fell Race - organised by Jenny Frazer (019467 25799) and Tim Brooks (019467 26261) it will take place on Saturday 22nd at 2.00 p.m. It is a Fell Runners Association Championship Race and will be well supported by runners from all over the north of England - for previous event see pictures and times see 2003 or 2004 plus 2004 results for entry details and course record see here
---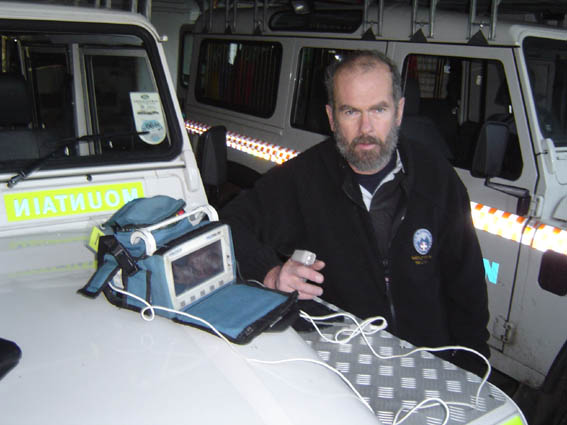 The Propaq which we carry in Mobile 1 - It goes out onto the fell and although houses intricate electronics it also needs to be a very robust as it is attached to the top of the stretcher.
If you want to understand more about the Propaq then click here
---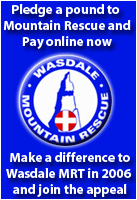 If you would like to make a donation to the team now please click on this picture. This will take you through to the Wasdaleweb site with a further link to Paypal where an account has been set up to handle donations more easily on line
It is important to note that for donations made through Paypal using a credit or debit card the sum donated will be minus the handling charges of 3.4% per transaction, plus a flat 20p fee. These fees are charged by the Paypal. For people paying using existing funds in paypal accounts 100% of the donation will reach the team as there are no charges
Example - for a £10 donation - 20p flat fee plus 34p goes to Paypal - your actual donation to the team would be £9.46p
---
Programme for the weekend see here
Kern Knotts event 2003 see here
Clothing and equipment in the Auction and Shop see here