It is important to note that that this event is a one off for the valley and will not become a regular challenge event. The Wasdale Valley has a number of Special Scientific Interest locations in addition to the peace and tranquility. The National Trust are keen to minimise any environmental impact to the area from the Three Peaks and similar challenge events.
These photographs are in chronological order with the most recent photos at the bottom of the page - the underwater swim / dive was completed in 5 hrs 10 minutes - well done to Charles and Rob whose efforts managed to raise at least £2,600 with more on the way.
Many thanks to Charles and Suzie Potter in anticipation of a successful fundraising event - £1,300 already raised from the challenge as of 20/7/06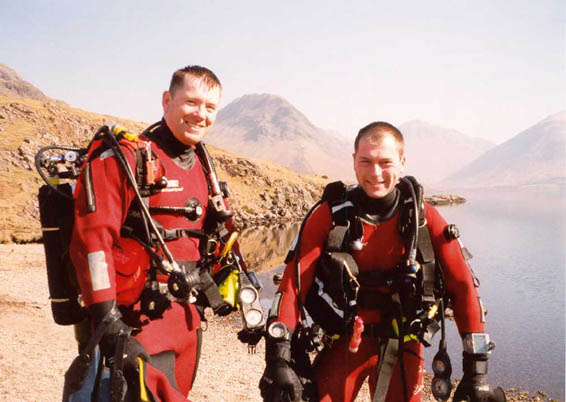 Charles Potter is on the left with a diving colleague at the shore of Wastwater, Yewbarrow and Great Gable in the background
A little bit of background on Charles - I am 41 and have been diving since the end of 1999 - a late starter to diving and I wish that I'd done it sooner. I have always had an interest in diving following the 70's TV programmes by Jacques Cousteau but I took the bit between the teeth after I saw a documentary on the sinking of the first world war battleships at Scapa Flow. Our training was completed at the West Cumbria BSAC branch (0094) based at Egremont and supported by SASRA (Sellafield Area Sports and recreational Association). My wife and I both started as a shared activity and were soon qualified to Sports Divers. We went on several trips during those first years both at home (Anglesey and Scotland) and abroad to the Bahamas. The wild life and wrecks proved fascinating and the desire to do more prevailed. Soon we were completing our instructors courses and progressing towards Advanced Divers. I progressed into some technical diving, moving from single cylinders to twin sets with sidemounts, doing deeper wrecks to a maximum of 50m (150ft), and entering the realm of decompression diving involving ascent stop to eliminate absorbed nitrogen following the deeper dives. Wastwater has provided an excellent diving environment to progress this development and we are fortunate to have such a beautiful spot on our doorstep. In 2004 I realised my dream to dive at Scapa Flow and my expectations were more than met and it is hoped to return in 2007. The aim of this 'swim the lake' is to cover the 4.5km length of Wastwater under water at a depth of 6m (eliminating the effects of nitrogen absorption). We're not sure how long it will take and as part of the charity event we will be looking at running a competition to see who can guess the time for the swim. I will be doing the dive with twin 12 litre cylinders and two side mounted cylinders filled with air. It is anticipated that this should be sufficient to complete the swim. For planning the consumption rate is 25 litres per minute giving us about 6 hours underwater. Should more air be required then the support team will send in a diver to replace one of the side-mounted cylinders. In order to maintain safety we will have a surface boat acting as a guide and I will be accompanied by a buddy diver. The water temperature will be about 15 degrees Celcius and we will be in dry suits.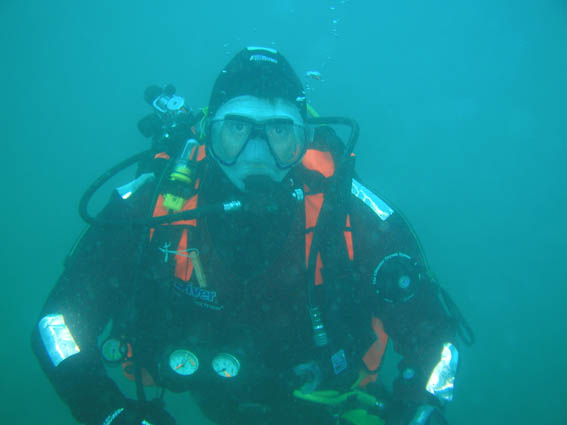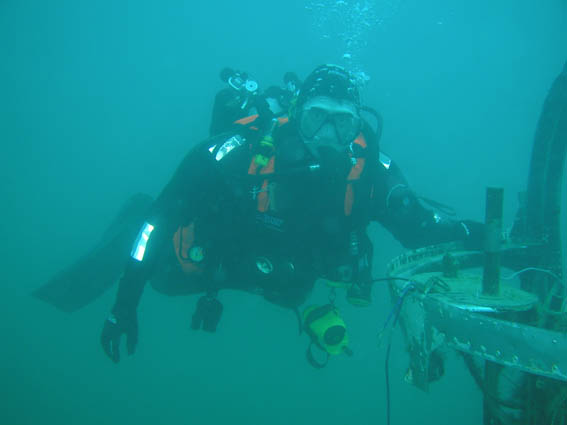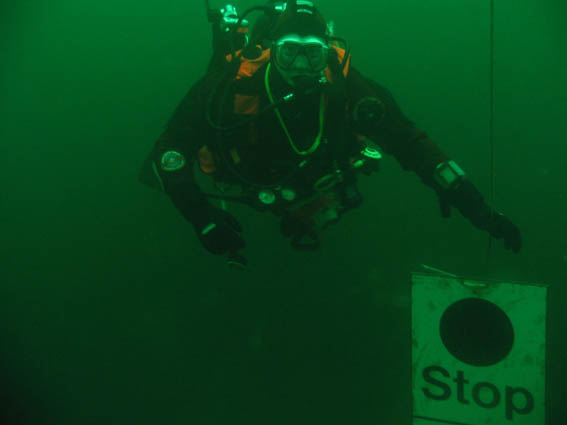 Time to go no further...........or is Charles waiting for a bus
If you would like to help raise money for the team - please find attached sponsorship form attached here

All money will go to the team - please make any cheques payable to WASDALE MOUNTAIN RESCUE TEAM and send to

Peter Holburt, Team Member and organiser of the event

Khumde, 6 Wastwater Rise, Seascale, Cumbria CA20 1LB - Tel 019467 21584
Wednesday 23/6/06
Team met with Charles and Rob to discuss the event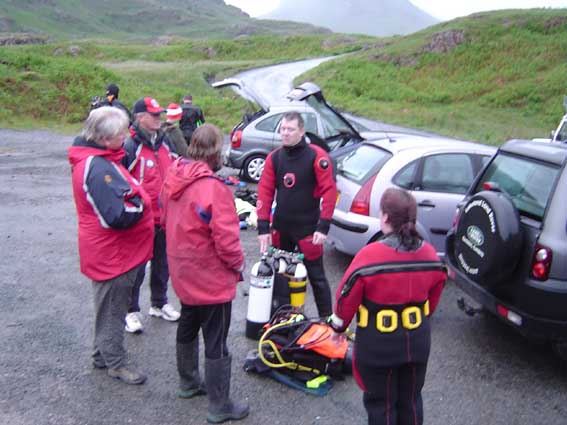 This is the equipment they will carry throughout the swim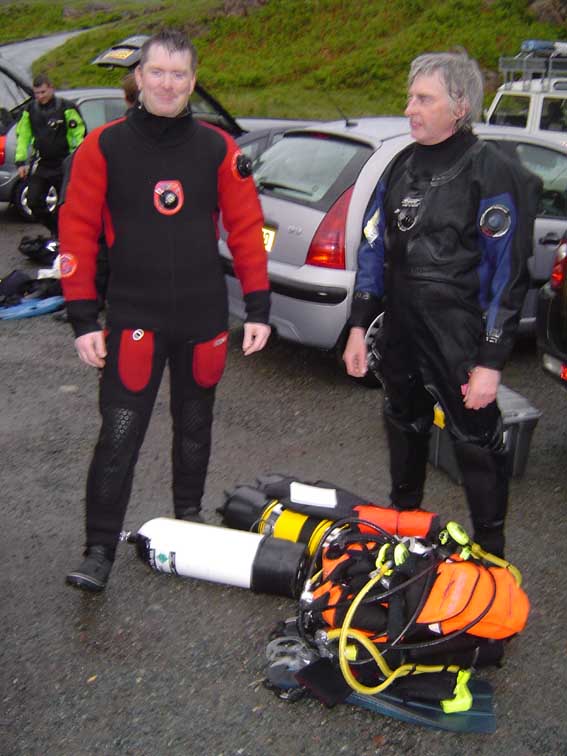 Charles and Rob - our intrepid diving team.......I asked the question are they apprehensive?
Answer - A little as it has never been done before - when they finish they will have great difficulty in standing up as the gear weighs so much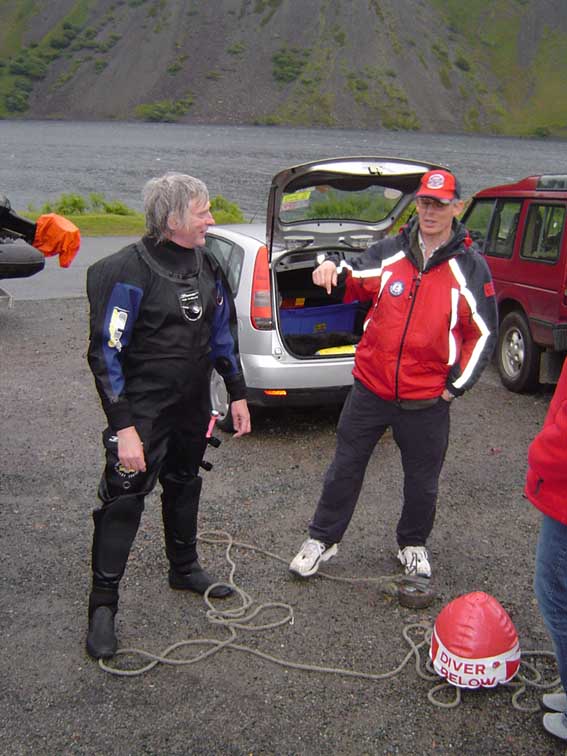 Peter Holburt. team member who pulled the thing together discusses with Rob how he will be rowing a boat with the diving float on tow and the strobe 6m below the surface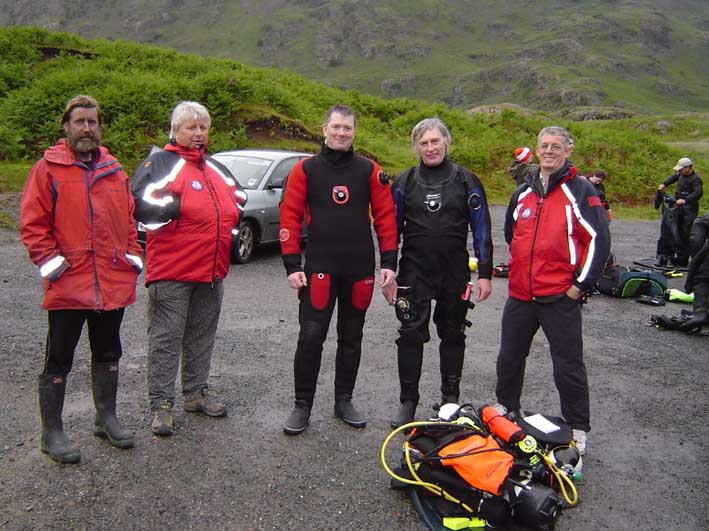 The diving team along with the boat team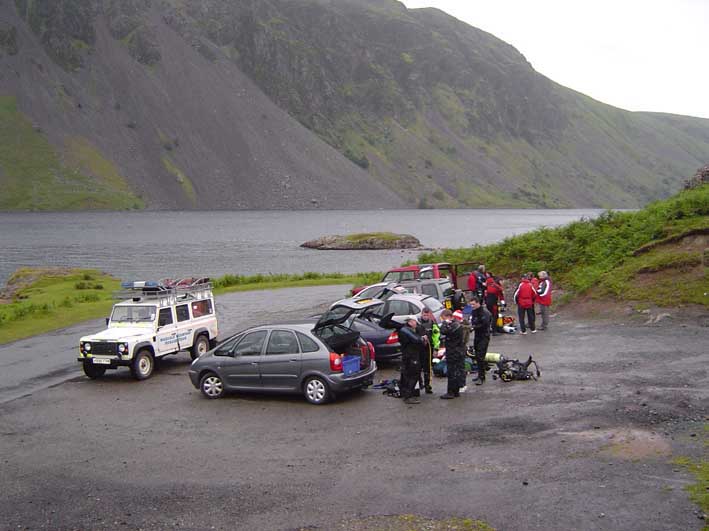 The divers will swim for one hour then take a 5 minute rest (all underwater at 6m) plus take on hot drinks - that should be interesting. We plan to have photos of the whole event on this website - tea drinking included - good luck to the boys
Saturday 22/7/06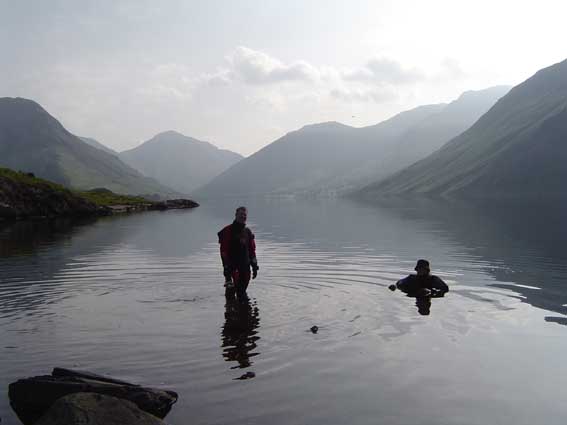 9.00 a.m. and it proves to be a perfect day with little wind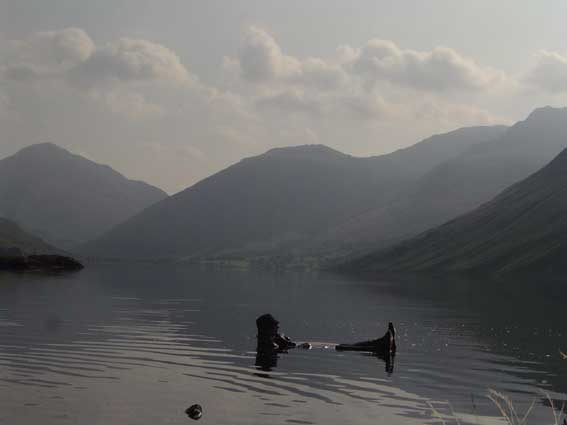 Just cooling off whilst waiting for the boat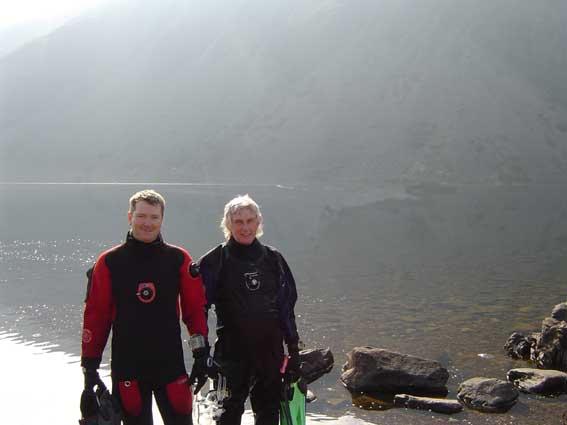 Charles and Rob - ready to get started at 9.00 a.m. on a very hot and still day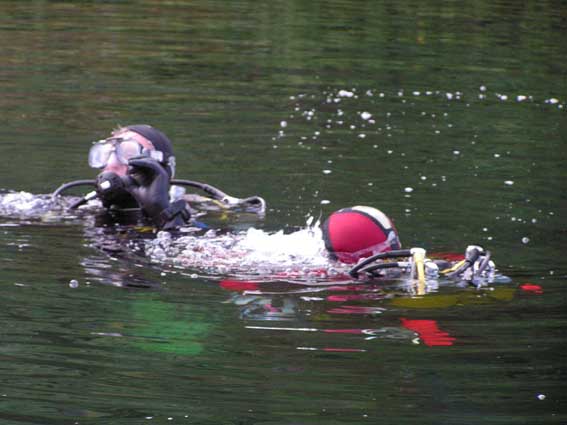 Start of the dive at 9.20 a.m. - only 5hrs and 10 mins to go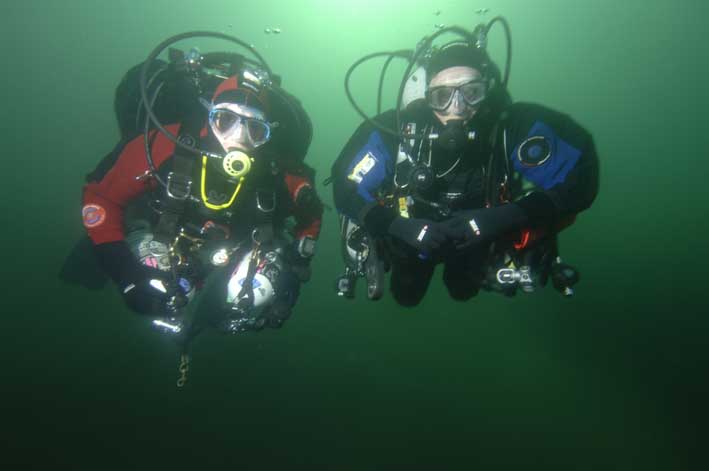 Charles and Rob start their long swim - looks spooky doesn't it - I think I will stay above the water and stick to mountaineering - this top notch photograph taken by Colin Robson who is a local professional photographer and took no fee for this excellent underwater shot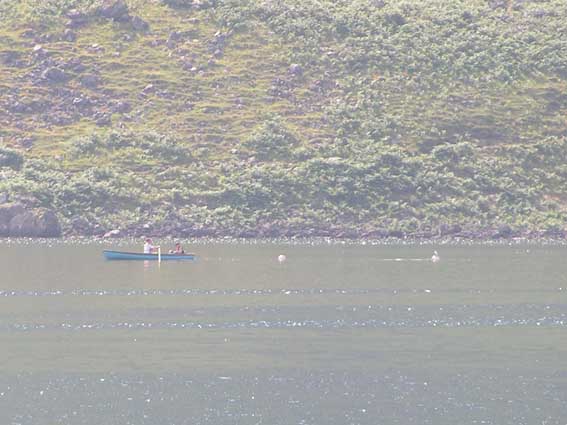 Pete Holburt and Rob friend take turns at the oars - the divers need to maintain a depth of 6 meters and this was achieved by a clever arrangement of floating markers, tow lines and heavy weights to keep all the lines taught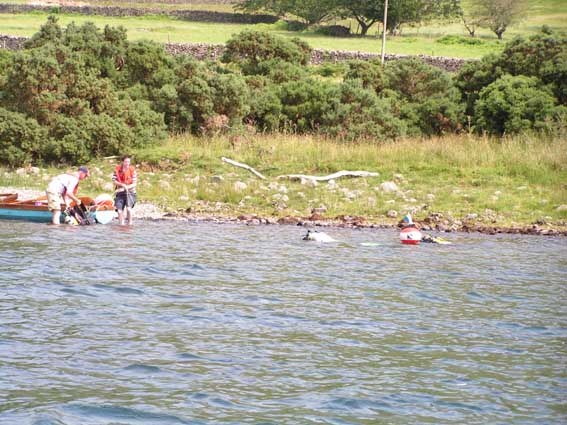 Divers finishing after a grueling 5hrs and 10 minutes - but also raising a tremendous £2,000 plus for the team in sponsorship.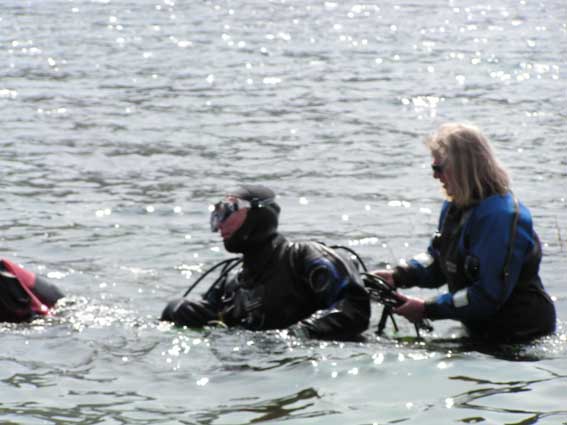 You can sense the releif on Rob's face as the air bottles are carefully taken off his back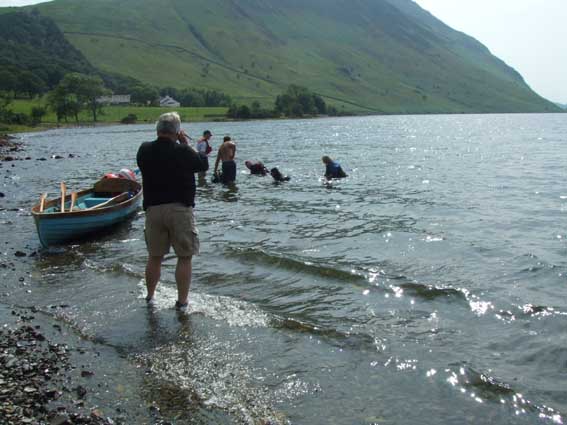 Just over 5 hours later, Charles and Rob struggle to get out of the water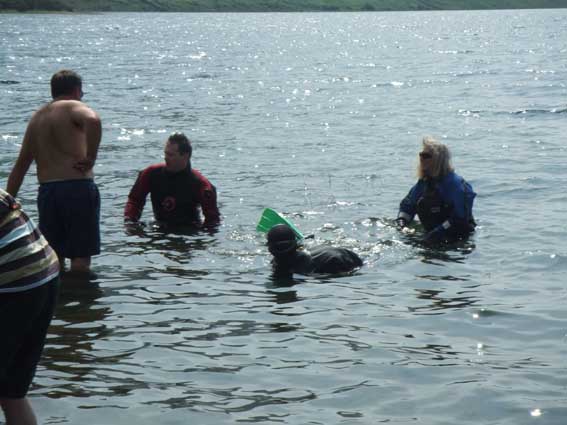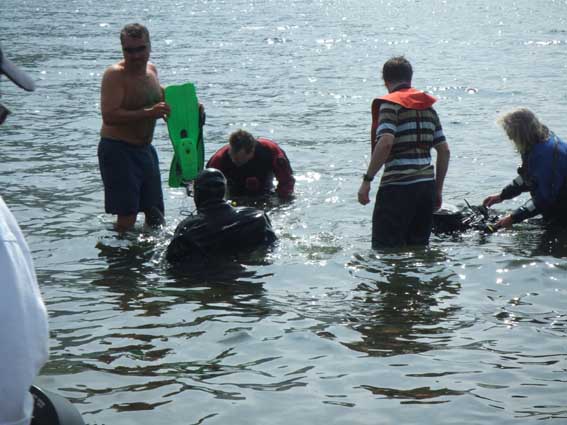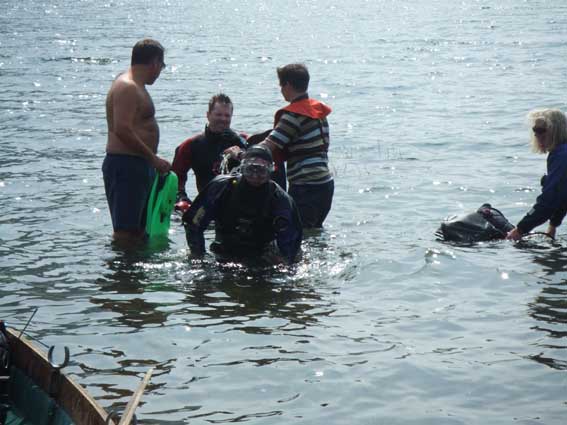 You can see the tiredness in their faces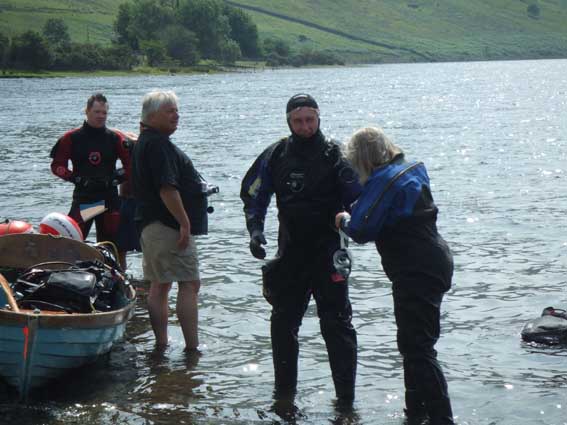 Pleased to be back on terra firma.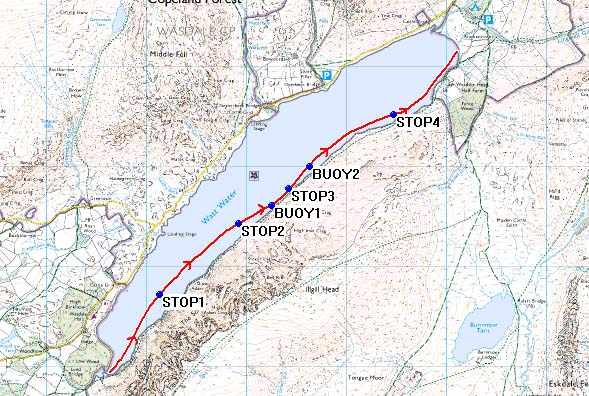 This print out shows the progress of the boat which was being rowed 10 meters in front of the two divers and providing guidance. The plan was for a 10 min stop every hour - as can be seen from the trace, progress was slow on a few of the legs, particularly between stop 2 and stop 3 where one of the divers was suffering from cramp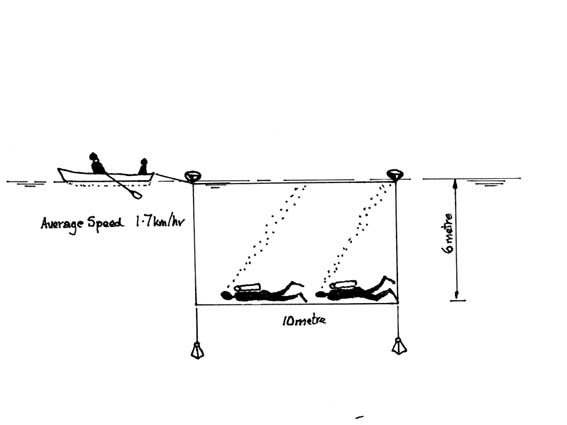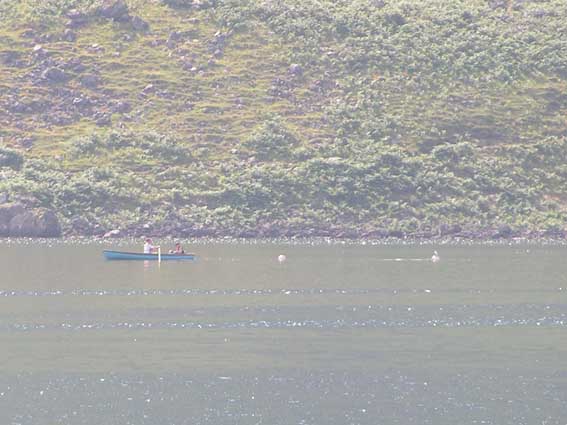 In order to keep the divers at 6 m depth, the above arrangement was designed. The surface rope prevented the rear buoy from dragging behind, the weights kept the bottom line horizontal at the 6 m depth. The divers could then swim with their heads looking down and not having to keep checking their depth or looking up at the surface.
This is the Article that has been prepared for the local Paper
Two Sellafield divers became the first people to swim the length of Wastwater for charity recently – underwater!
Charles Potter, a Business Improvements Manager, and Rob Watkins, a Lifting Appliance Engineer, became the first divers to swim the three and a half miles of England's deepest lake without surfacing on 22 July, raising £2,500 for the Wasdale Mountain Rescue Team (WMRT) in the process. The idea is that of Charles and Peter Holburt, an Operations and Technical Support Advisor and a member of the WMRT. The epic swim was supported by members of both the team, who provided a pilot boat and safety cover, and members of the West Cumbria dive club, who gave under water support to Charles and Rob.
The divers carried all the air they needed for the dive themselves, carrying four cylinders each at the start. "The dive took just over five hours," said Charles. "We wanted to be completely self-sufficient, although we did send our empty cylinders up to the surface to be collected. A lot of planning went into the dive, from training sessions with the support divers to practice communications, making sure that the surface boat and the divers stayed in contact. It was a real team effort and this is what ultimately made it so successful."
Julian Carradice, on behalf of the WMRT, said; "The WMRT is made up entirely of volunteers, and as a charitable organisation we rely greatly on fundraising and donations. Our area includes a number of popular peaks, including England's highest, Scafell Pike, so we are kept busy. "We intend to use the money to buy essential medical equipment, including a new Propaq machine, which will enable us to keep a check on the health of casualties during rescues. We are very grateful not only to the divers, but also to everyone who supported the event."
Clean-up's Dave Foucault, who gave a generous donation on behalf of Fluor, said: "As a member of the community, and a "sometime" fell walker, I think this is a very worthy cause. Fluor were pleased to be able to offer support."
Friday 4/8/06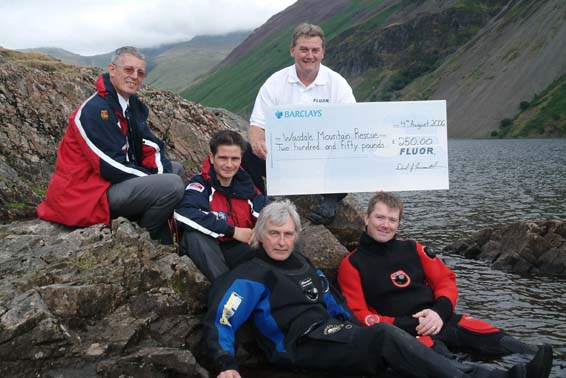 Dave Foucault, Head of Integration and Projects, Fluor International at Sellafield hands over a cheque for £250 to Peter Holburt (left) and Rob Friend following the swim. Charles and Rob looking at home in the lake where they spent over 5 hours the previous month. In addition to Charles' and Rob's achievement we must not forget that the Peter and Rob also did a great job rowing the boat the 3 miles and Richard Longman, Gordon Starkie and Martin Willey who looked after re-supply and rescue back-up arrangements plus all the support from friends in the S.A.S.R.A. diving club.