Lake District Search & Mountain Rescue Association
Celebrate of 75 years of Mountain and Cave Rescue in the UK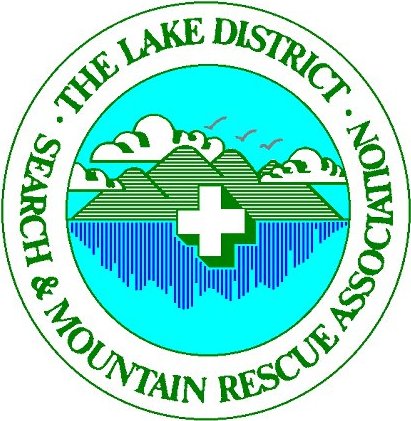 5th July 2008 - Ambleside Rugby Ground
Page Updated 28/07/08
---
Mountain Rescue Teams Battle to Raise Profile
Saturday 5th July 2008 - Ambleside
SEE PRESS RELEASE FOLLOWING THE EVENT HERE
PLUS PHOTOGRAPHS HERE
PLUS VIDEOS PART 1 AND PART 2

2008 is the 75th anniversary of the formation of mountain rescue in the UK and to mark the event the twelve Lake District teams are organising an 'It's a Knockout' on Saturday 5th July 2008 on the Ambleside Rugby Ground. The event will celebrate the Lake District's involvement over the past 61 years and give recognition to the 450 rescue volunteers and their families who are totally committed to saving lives on the Lake District fells.
The event will be officially opened by the Chief Constable of Cumbria, Mr. Craig Mackey. In addition to the twelve Lake District MR teams there will be teams competing from other emergency services. There will be a number of exhibitions and demonstrations relating to mountain rescue and the Langdale and Ambleside mountain rescue base will be open all day and form an integral part of the day's events, providing additional attractions. Key events will be a simulated crag rescue demonstration, search dog training techniques, river rescue, helicopter winching and of course the battle of the teams to secure a coveted trophy – the main sponsors for the event are Sellafield Ltd., AMEC Nuclear, CH2M Hill and UKAEA Windscale who are all committed to improving safety both in the workplace and in the community. All sponsors will be given recognition in the final programme which will be available on the day for a small donation. Entrance to the event is of course free.
The event is expected to draw many hundreds of visitors to the area, particularly as Lakeland Radio has chosen the Lake District Mountain Rescue service as its charity for the summer months and will be promoting the event for the period leading up to the 5th July. On the day they will transmit their programmes live from the rugby ground. A group of 16 to 25 years old from the Centrepoint charity have also been invited to come across from the north east to join in the celebration activities. HRH Prince William of Wales is royal patron to both Mountain Rescue (England & Wales) and Centrepoint and actively encourages sharing of experience amongst his chosen charities.
Mountain Rescue is being strongly supported by Cumbria Tourism, The Lake District National Park Authority and Cumbria Constabulary throughout 2008 to raise public awareness of the voluntary nature of the service and the need for walkers and climbers to take greater responsibility when venturing on the hills. To reinforce the safety awareness messages, Mountain Rescue (England and Wales) will be at the event in attendance launching the new Mountain Safety Handbook 2008 that provides the most up to date information on how to keep safe on the UK's mountains. A striking platform to launch both the celebration of 75 years service and raise public awareness. An event not to be missed.
Richard Warren
Chairman LDSAMRA
---
Programme for the Day - (All events at the Rugby Ground unless otherwise stated)

Saturday 5th July

| | |
| --- | --- |
| 9.00 a.m. | Teams to arrive and be ready to role from 10.00 – Lakeland Radio up and running with live broadcasts throughout the day (Helios to arrive at 9.50 a.m.) |

---

Background to LDSAMRA and MR(E&W) :

The Lake District Search and Mountain Rescue Association is a registered charity and is the umbrella organisation for the 12 teams serving the Lake District. Its primary role is to act as a forum for sharing best practice within the region and a focus for mountain rescue communications between the national body and the individual teams. In addition to the 12 member teams, the Police, Ambulance Service, Fire and Rescue, RAF and Air Ambulances are represented at the association meetings. There are approximately 450 team members amongst the 12 teams of Cumbria and the cost of providing the service is through voluntary donations from the general public. Team members are all volunteers who give up their time to help those in need.

Mountain Rescue (England and Wales) is the national body covering south of the Border. Mountain Rescue Committee (Scotland) is the co-ordinating body for the Scottish mountain rescue teams.

Facts about Mountain Rescue

There are 61 teams with 3,500 team members covering England and Wales; 12 teams with 450 team members covering the Lake District

Team members are on call 24 hrs a day every day of the year

All team members are volunteers and do not get paid

Majority of team members have day jobs

Both men and women are actively involved in mountain rescue

Training and rescuing demands a very high commitment from the team members

Tremendous support and understanding is necessary from partners, wives, husbands, family and employers

Teams are self sufficient but are charities will hardly any external funding

Teams need to raise around £30,000 to £70,000 each year to keep going

Funding comes from donations and fundraising activities

There are over 700 rescues each year, over half in the Lake District

A typical rescue may involve up to 20 team members for around 6 hours on average

Rescues are split 75% / 25% between trauma & medical / searches

Helicopters do assist, but are only called for a relatively small percentage of rescues where urgent air support is required and weather conditions allow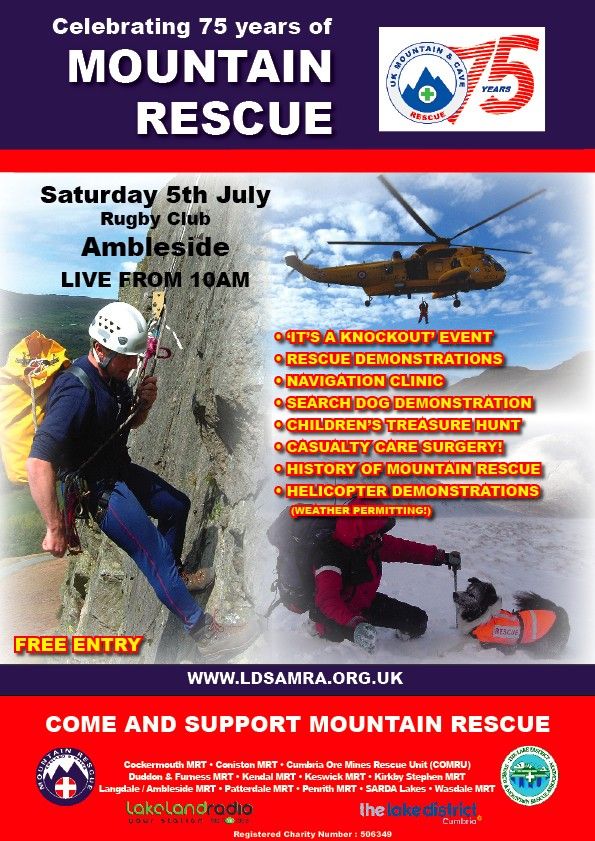 SPONSORS OF THE EVENT

Sellafield Ltd.
AMEC / C2M Hill /UKAEA
Lakeland Radio
Great North Air Ambulance
grough website
Hawkshead Clothing
Co-ordinating Group of Publications
Osprey Communications

---

SPONSORS OF THE 'Knockout' TEAMs to Participate

Kendal MRT

McClures of Windermere
Outrange of Kendal

Wasdale MRT

Morson
Wasdale Head Inn
Great Gable Brewing Company
Barn Door Shop