The 3 Peakers and the Mountain Guide
Sunday 6th May 2007
---
The Three Peaks Challenge remains one of those mountaineering challenges that is available to all levels of experience and fitness. Therein lies the problem for mountain rescue teams in the Lakes, particularly Wasdale MRT. The following story is not typical. The group could not have done better than hire a local guide to assure their safety and ensure they completed Scafell Pike (the Pike) as part of the challenge. However, the story does indicate that for the ill prepared, the Pike can be more challenging than planned.
---
Hi there,
I've been looking at your website following an abortive attempt this weekend to get to the top of Scafell Pike and thought this might be interesting to you – I'd also be interested on your views as to whether this should really have happened at all.
I was part of a team of 5 friends attempting the 3 peaks challenge, we started at Ben Nevis and completed our ascent & descent with no problems we the drove to Wasdale arriving at 2am this past Sunday morning [6th May 2007]. Because we were not very experienced walkers (although I've trekked in the Himalayas & South America 8 yrs ago and go at least once a year to Dartmoor or Brecons) and because we knew we would be attempting Scafell Pike in pitch dark we had arranged a local guide recommended via the tourist office (I'm not going to mention any names).
We set out at about 2.30 am from Brackenclose following Lingmell Gill, our first minor set back was when the guide took a left turn over a style and after about 5 minutes realised it was wrong so we re-traced our steps back to the path next to Lingmell (not an auspicious start but it was dark). We carried on up to a point where having since re-looked at the map I think was the crossing point of Lingmell Gill to get us on to the Brown Tongue path. However we did not cross the gill here, instead our guide took us up the left hand side of Lingmell Gill which was quite rocky and felt less and less like a path as we continued up. The gradient increased and underfoot the ground turned from grass to small rocks & scree (we were not in sight of the gill any more). It was a steep gradient and felt very loose underfoot – at one stage we were on our knees having to clamber over a small ridge , the risk of slipping felt very high, with the dark and the rain we all felt that this was not a particularly safe place to be and kept questioning the guide as to whether this was really the right way – his response was to advise us to keep going up and that we would meet a path eventually up on Lingmell and that we could then drop down & across to Scafell Pike.
We duly carried on up but it felt increasingly precarious as it was difficult to find firm ground – we as a group decided we'd had enough and were clear in our minds that this could not possibly be a path up Scafell Pike (particularly given the number people that ascend each year we felt the path would be reasonably well defined if not always obvious). We insisted that we shouldn't ascend further into what we felt was the unknown as the guide did not sound confident at all. It was clear to us that we could not descend the way we came as we would have easily slipped a long way down – as it was, on the ascent loose rocks had already hit two of our party on the arms. So we decided to traverse toward where we felt Lingmell Gill would be i.e. back to our right (one of our team wanted to contact MRT – but we agreed to at least try a traverse in the hope of finding more solid ground from which we could descend). We didn't have much idea of where we were and our guide didn't seem to either. We traversed across very loose scree which after about 10 minutes turned to grass again all be it still steep but walkable. We then side stepped our way down to eventually come down to the Gill – all of this time our guide was behind us and it was us that were finding our way – I really think if left to him he would have tried to carry on taking us up the steep loose slope. Anyway we were down & could follow the path back to Brackenclose.
We had got to 450m (one of our team had been tracking with his GPS) and had spent about 2.5 hours in all. We were particularly annoyed & disappointed given we'd actually employed a guide and felt he had put us in un necessary danger and that it had been us who had decided we needed a different plan and us who found a way down. Of course however we were just pleased to get down safely and decided we would just have to abandon this attempt and drive on to Snowdon , which we duly completed. We were pleased with our decision to stop ascending anymore despite our guides wishes – at the end of the day we weren't comfortable with what we were being asked to do.
Our guide was very apologetic and accepted that we wouldn't be paying him, he did tell us that he had only been up once before in the dark and that was a long time ago – he was pretty much admitting he'd lost his way – I'm sure that's easy to do in the dark with rain etc, but I would have thought less likely as a "guide" .
Interestingly a learning for me was that we should have spent more time planning our own route and studying the map – I think having a guide led us into a false sense of security and a 'just follow him' mentality. Thinking about it even the best guide could suffer a fall / broken leg etc so I guess someone should be armed with a backup plan. All of which we had done on Nen Nevis and Snowdon ourselves.
It's probably not a good idea to put this on your website as it may stop people having trust in guides and I'm sure there are a lot of very competent guides , it just didn't feel like we found one of them. To be honest I'm probably just interested in your opinion – is this a normal occurrence?
Regards
(Name and contact details provided)
---
Dear Website Reader - I did respond to this gentleman's email on behalf of the team and did get his permission to reproduce his story on the website. I concur with his assessment in that one should always plan and prepare as a contingency, even when you have your own guide. A quick study of the O.S. map would have shown that the simplest way up the Pike is to cross Lingmell Gill and follow the Brown Tongue well made path up to Hollowstones and turn left for the Col. Hindsight is of course wonderful and if you are not familiar with the mountain, why not hire a guide and why not follow his leadership? After all that is what you pay them for isn't it? As a client you would just assume that he knew a much quicker and easier route than 'joe public'. So I fully understand why a group should follow blindly. Their decision to back-off was correct. They had strayed onto Lingmell Scars and although fine during daylight it is another story in the dark. A tumble fall here could have resulted in anything from broken pride to a significant head injury or worse. They could have retraced their steps, regained the Brown Tongue Path and completed the Pike but I can understand why they had 'had enough'.
The writer has assured me that he will be back ......... next time I am sure he will be preparing in the same way he had done for the Ben. Perhaps a daytime excursion to check out the route and make a mental / visual note of the key turning off points , perhaps even have a look at 'Scafell Pike the Easy Way'.
The above are my personal comments and do not necessarily reflect those of the team. I would like to thank the author for giving me permission to reproduce his story. (Richard Warren - Webmanager)
The following picture shows the Lingmell beck crossing and the route they took, keeping left of the beck and not crossing onto to the main path which is straight across and to the right. It would appear from their description that they ended up on the scree near the skyline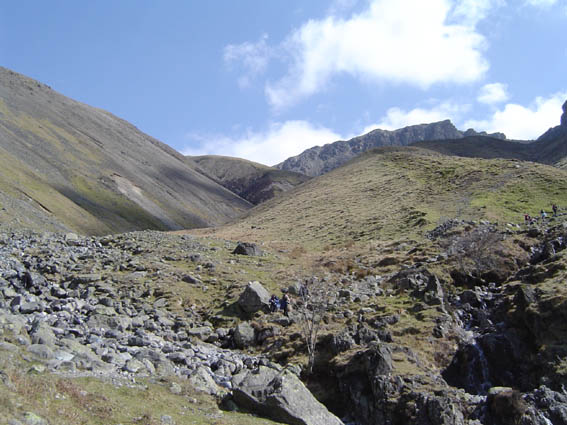 ---
Page created 11/05/07