The following is a true-life rescue story as retold by one of our team members, Debs. This was Debs' first rescue with the team and it proved to be one of those unusual rescues that will be remembered for some time. well done Deb's and thanks for the story.
---
A Prince in Need
Team Members had been milling about at Wasdale Head all day doing various jobs as it was the Kern Knotts Auction weekend. I had been told earlier on in the day that "we always get a call out during Kern Knotts Auction weekend". It had been a fairly uneventful so far, the Lingmell Dash Fell race had passed with out injury.
The BBQ was just getting going, I was looking forward to my tea, when the call came in. There were plenty of Team Members around so it was no problem finding enough people to go, but I was there, my kit was there and I wanted to go. The rescue was for Prince, every girls dream but, shouldn't the girl get rescued by the Prince? I jumped in the Land Rover. We parked at Brackenclose decided what gear we would need and the next thing I know I am heading towards the summit of Scafell Pike. We had been given a grid reference so knew they were on the path which heads down from the summit towards Lingmell Col. It was still a very warm evening. I had been given a Mountain Rescue t-shirt to wear earlier on that day. I now remember why cotton (especially black) t-shirts are not the best thing to wear when it is so hot. Needless to say the guys didn't have a problem if I wanted to remove my t-shirt like they had done.
We met a couple of walkers on their way down and they confirmed the location and told us a bit about the casualty and what treatment had been carried out so far, water, food and rest. We found Prince and his owner, Prince was looking fairly happy but was unable to stand. An assessment was carried out and it was found that the pads on his back paws had worn and were sore. We carried out doggy first aid and bandaged them up. He took a few steps but was unable to walk. We had brought the light weight stretcher up with us so we put him on that and started the walk down. He was a lovely natured Labrador so didn't have too many problems. He was 6 stone and a bit of a wriggler so kept sliding down the stretcher. Whoever had the rear end had a bit of a bum deal with most of the weight. The walk off apparently took longer than a human casualty but with lots of jokes on the way down about how it is a dogs life and all that it kept us entertained. A second team came up to meet us with welcome refreshments and arm relief, we also got to hear the jokes again. We made it back to the pub for about 10pm. We were all starving by then and Howards food filled the hole nicely.
I am please to say that this has not deterred Prince from his adventures on the hills but he is now the proud owner of a very stylish pair of doggy boots.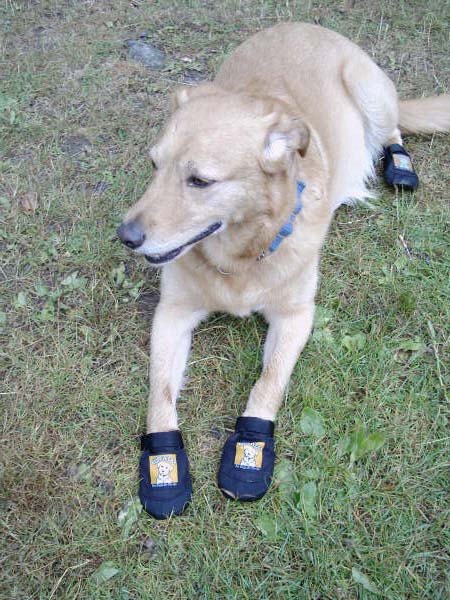 Prince in his new boots
To see the full details of the rescue and pictures of Prince on the day click here
View Jane and Prince's photo library updated 31 May 2007