Prince decides he wants to be Carried like a Prince
Scafell Pike - Top Plateau
22nd July 2006
---
6/27: 22/7/06 ( 5.21 p.m. ) - Saturday
The police paged the team who were already at the Wasdale Head at the fundraising Kern Knotts weekend to rescue a dog who was unable to walk down from Scafell Pike. The dog, a lovely natured 6 and half year old Labrador called Prince had badly injured both of his rear paws and could not walk. He was on the summit plateau so a long carry down was anticipated. His owner, who was from the north east, had called the police via her mobile phone. Their car was at Seathwaite in Borrowdale but the quickest way off the mountain was to Brackenclose in Wasdale. Prince was given canine care and his paws bandaged before he was carefully carried down the mountain on a lightweight stretcher. Although a dog, he was a well proportioned heavy boned animal approaching 6 stones in weight. The six team members who had worked hard to come up the mountain in extremely hot and humid conditions would definitely require additional resources to get him off the mountain. A further 5 team members were summoned from the valley bottom to bring up water and food (it was excessively hot and humid and many of the team member were low on energy due to the time of the call - the BBQ was just about to start when the call came in - also there were no running streams above Brown Tongue due to the very hot weather).
The carry down took significantly longer than it would have with a normal casualty and so, with a lot of patience on the part of team members, Prince was eventually back at Brackenclose by 10.00 p.m. As their car was parked at Seathwaite, Prince would have to endure a further 2 hours in a taxi - its a dogs life...........
p.s. This was a very first rescues for one of our probationary members who is planning to write a suitable article as a true-life rescue story... there were a lot of doggy jokes on the way down but the best one was when Base asked for an update on the casualty condition and everyone, including Prince's owner shouted .....RUFF
The owner of Prince has given her permission for these pictures to be publicised in order to help others understand more about mountain rescue teams who care for the four legged as well as the two legged variety.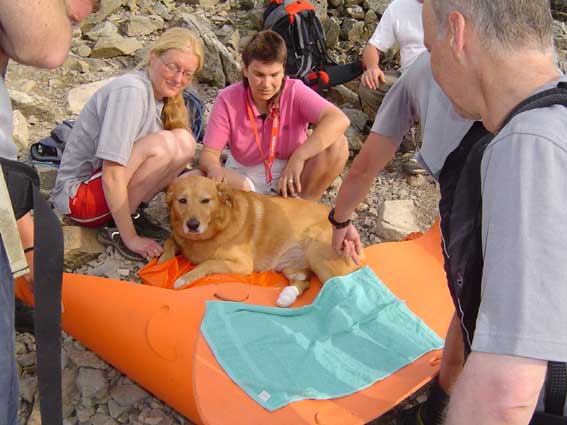 Prince looking a little sorry for himself while his owner looks on anxiously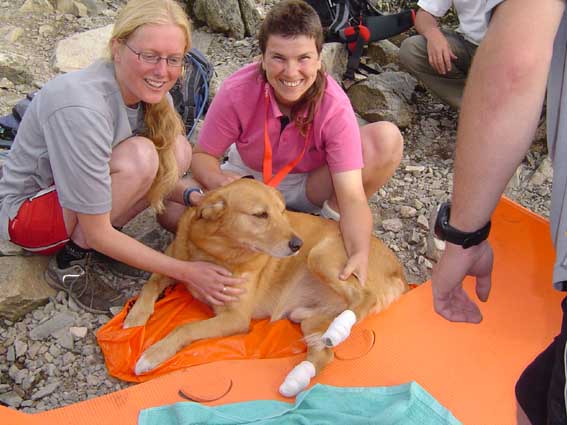 Paws bandaged and he now looks a lot better. Fortunately we had three dog owners in the rescue group, two being SARDA dog handlers.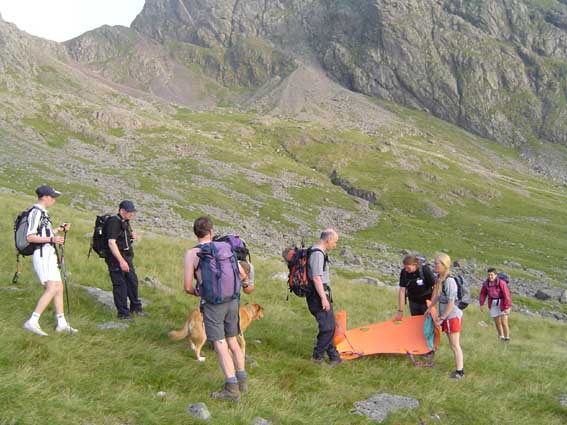 Mickledore in the background and we try to allow Prince to walk down the grassy slope. Thirty yards and he decided that the stretcher was a better option.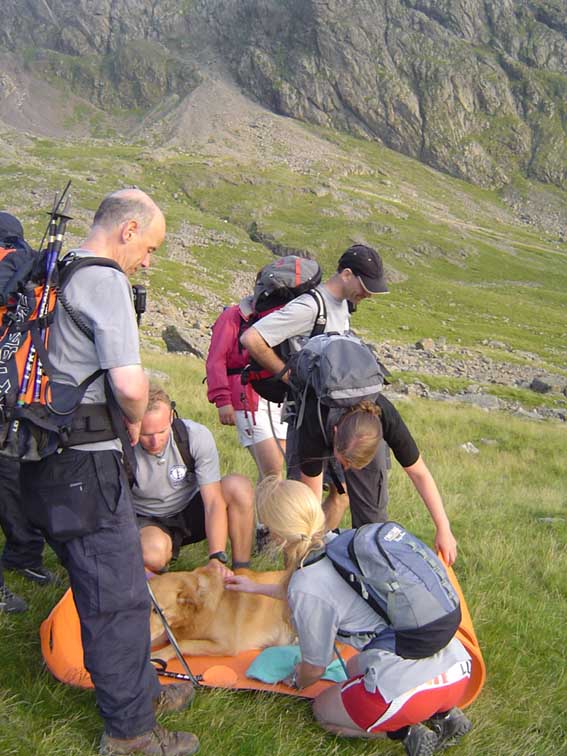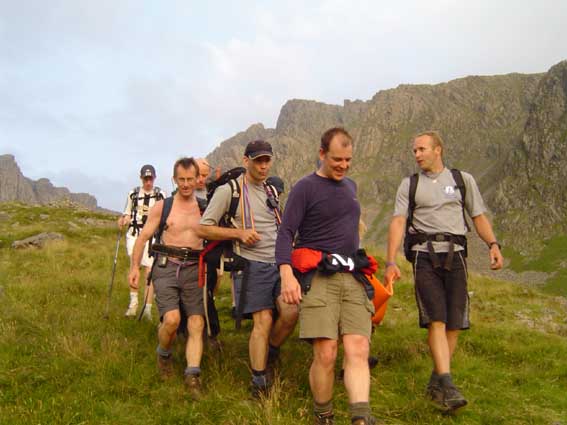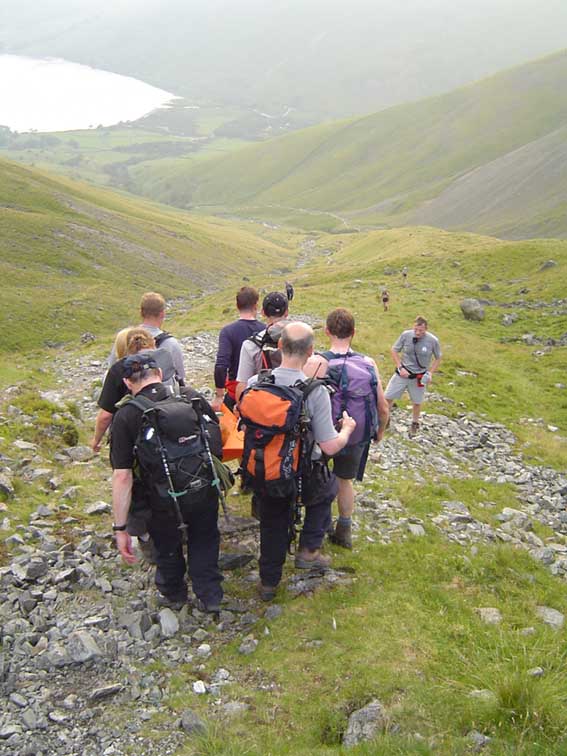 We meet up with the back up group which had brought up fresh water plus food, along with fresh arm muscles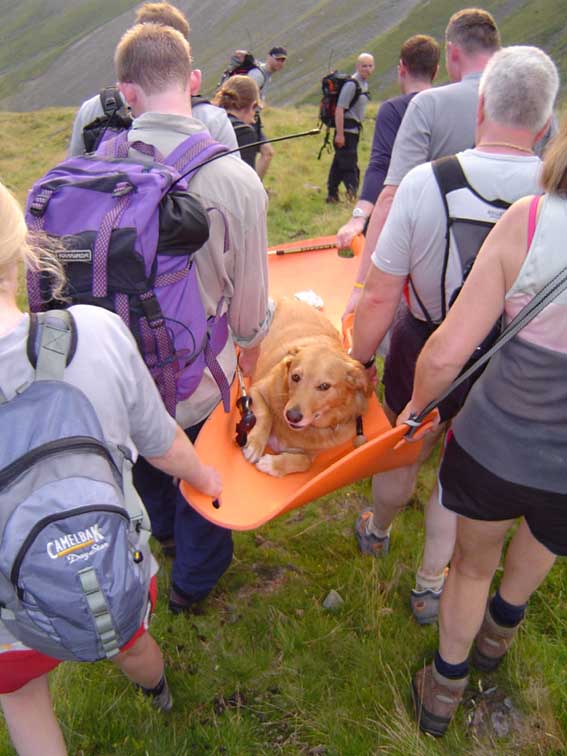 "Do I sense a smile prince?" I reckon Prince was no fool and had already decided to do what most walkers want to do when he had got to the top and started descending back down...........sit down and wait to be rescued.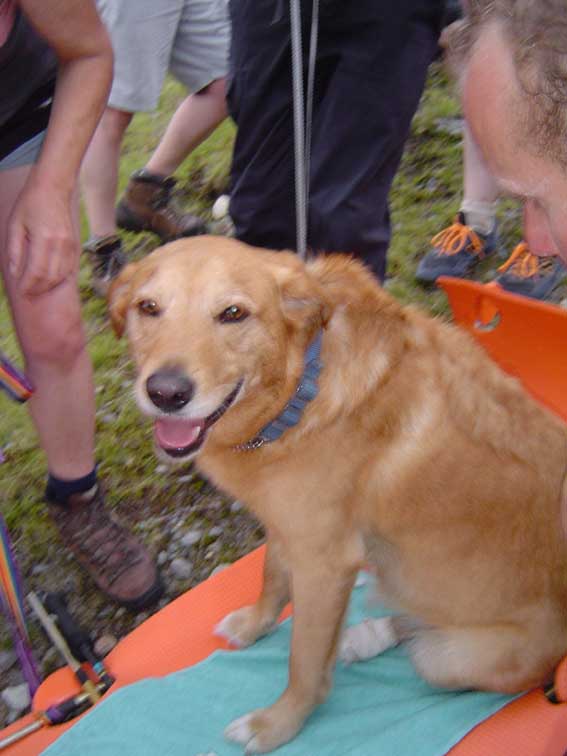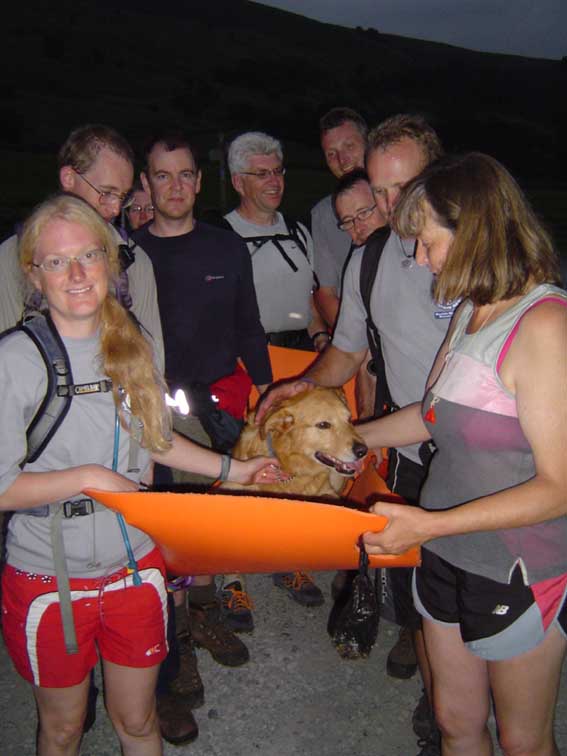 Back down at the road head - much later that evening and relief all round - a good job well done.
Page created 23rd July 2006