Historical Articles & Quotations
(updated 27th May 2011)

---
(also see new entry at bottom of page - Coleridge's Letter on Broad Stand 1802, first recorded rescue by John Ruskin in 1859, first ascent of Napes needle by WP Haskett Smith 1886, first ascent of Kern Knotts 1897)
for history of the Wasdale team see here
---
"Climb if you will,
but remember
that courage and strength
are naught
without prudence
and that a
momentary negligence
may destroy
the happiness of a lifetime.
Do nothing in haste:
Look well to each step:
And from the beginning think
What may be the end."
Edward Whymper
[First ascent of the Matterhorn July 14th1865- British climber]
Note- National Mountaineering Exhibition at Penrith [Rheged Centre] opened on 15th July 2001 which has Sir Chris Bonington as its founder. Story of Edward Wymper is well documented at the exhibition and is well worth a visit - Richard Warren
---
The first recorded descent of Broad Stand from Scafell? - by Samuel Taylor Coleridge
August 1802
There is one sort of Gambling, to which I am much addicted; and that is not of the least criminal kind for a man who has children and a Concern. It is this. When I find it convenient to descend from a mountain, I am too confident and too indolent to look round about and wind about 'till I find a track or other symptom of safety; but I wander on, and where it is first possible to descend, there I go - relying upon fortune for how far down this possibility will continue. So it was yesterday afternoon.... the first place I came to, that was not direct Rock, I slipped down, and went on for a while with tolerable ease - but now I came (it was midway down) to a smooth perpendicular rock about 7 feet high - this was nothing - I put my hands on the ledge and dropped down - in a few yards came just such another - I dropped that too, and yet another, seemed not higher - I would not stand for a trifle so I dropped that too - but the stretching of the muscles of my hands and arms, and the jolt of the Fall on my Feet, put my whole Limbs in a Tremble, and I paused, and looking down, saw that I had little else to encounter but a succession of these little Precipices - it was in truth a Path that in a very hard Rain is, no doubt, the channel of a most splendid Waterfall. So I began to suspect that I ought not to go on, but then unfortunately tho' I could with ease drop down a smooth Rock 7 feet high, I could not climb it, so go on I must and on I went....
... the next 3 drops were not half a Foot, at least not a foot more than my own height, but every Drop increased the Palsy of my Limbs - I shook all over, Heaven knows without the least influence of Fear, and now I had only two more to drop down, to return was impossible - but of these two the first was tremendous, it was twice my own height, and the Ledge at the bottom was so exceedingly narrow, that if I dropt down upon it I must of necessity have fallen backwards and of course killed myself. My Limbs were all in a tremble - I lay upon my Back to rest myself, and was beginning according to my Custom to laugh at myself for a Madman, when the sight of the Crags above me on each side, and the impetuous Clouds just over them, posting so luridly and so rapidly northward, overawed me. I lay in a state of almost prophetic Trance and Delight - and blessed God aloud, for the powers of Reason and the Will, which remaining no Danger can overpower us!
O God, I exclaimed aloud - how calm, how blessed am I now - I know not how to proceed, how to return, but I am calm and fearless and confident - if this Reality were a dream, if I were asleep, what agonies had I suffered! What screams! When the Reason and the Will are away, what remain to us but Darkness and Dimness and a bewildering Shame and Pain that is utterly Lord over us, or fantastic Pleasure, that draws the soul along swimming through the air in many shapes, even as a Flight of Starlings in a Wind.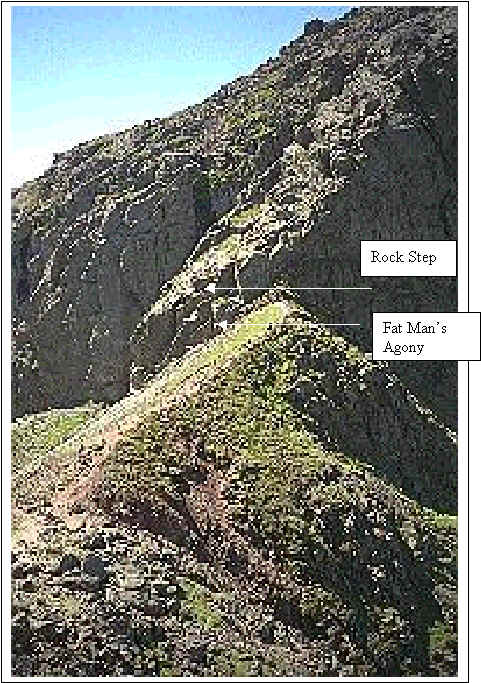 I arose, and looking down saw at the bottom a heap of Stones - which had fallen abroad - and rendered the narrow Ledge on which they had been piled, doubly dangerous - at the bottom of the third Rock that I dropt from, I met a dead Sheep quite rotten - This heap of Stones, I guessed, and have since found that I guessed aright, had been piled up by the Shepherd to enable him to climb up and free the poor creature whom he had observed to be crag-fast - but seeing nothing but rock over rock, he had desisted and gone for help - and in the meantime the poor creature had fallen down and killed itself. As I was looking at these I glanced my eye to the left, and observed that the Rock was rent from top to bottom - I measured the breadth of the rent, and found that there was no danger of my being wedged in, so I put my Knapsack round to my side, and slipped down as between two walls, without any danger or difficulty….
Samuel Taylor Coleridge, letter to Sara Hutchinson
August 1802
(provided by Dave Willey, Team Member WMRT - July 2000)
---

' Be it remembered that in crag-climbing two heads are better than one, even if the second head is only used as a foothold. '
Owen Glynne Jones, from 'Rock Climbing in the English Lake District' 2nd Edition 1900
---
The first recorded mountain rescue by John Ruskin
......see here summer of 1859 - Scafell (updated 27 may 2011)
---
The first ascent of napes Needle ....see here
---
The first ascent of Kern Knotts ....see here
---
The history of Mountain Rescue in the UK ....see here

---
| | | |
| --- | --- | --- |
| To top of page | | Back to previous page |
Page created 27th May 2000 by.......© webcatdesign.co.uk