Boots Glorious Boots
Page updated 20/05/07
---

The Wasdale mountain Rescue Team has a policy of part funding essential team gear. This has a number of benefits in that team members get a good discount on their protective clothing but also, as they part fund they can use it for personal use. As it is being used and part paid by the team member they look after the gear.
Team boots have been considered for some time and recently in May 2005 the team decided to subsidise Full Team Member boots to the value of £60 covering a three year period. Boot choice is personal and this page is to show team members what their colleagues have bought and what they think about them.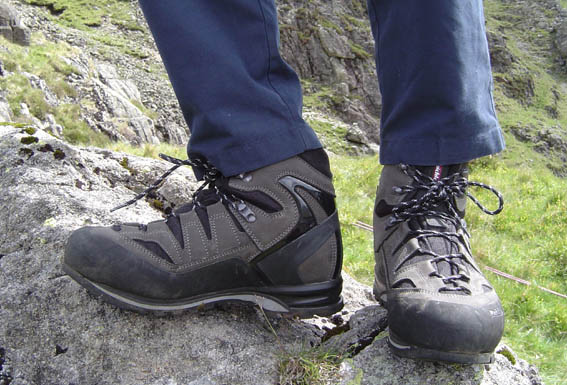 Raichle Mountain View - semi rigid Gortex. These retail at around £160. Due to Richard Warren trashing his Raichle All Degree Lite Gore-Tex - £120 (see bottom of page) on a rescue after 18 months he phoned up Raichle who very kindly offered a brand new pair at less than half price. One point worth mentioning is the importance of looking after your boots. Constant immersion followed by drying out and not weather proofing will inevitable result in the stitching rotting. He plans to look after these ones which are the next level up and so far are behaving well.

Added to page 20 May 2007
---
.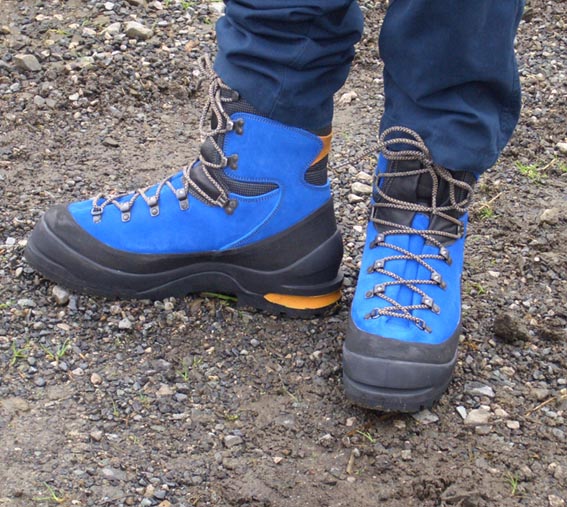 Garmont winter boots (Retail £150)
Bought by Richard Warren at the team's Kern Knotts Auction in July 06. Only started wearing them in October '06 to bed them in for the winter. Colour is a little bright and at size 12 need thicker socks. Too early to tell but very waterproof and very supportive on the ankle. Will see what they are like in winter conditions.
Added to page 24/10/06
---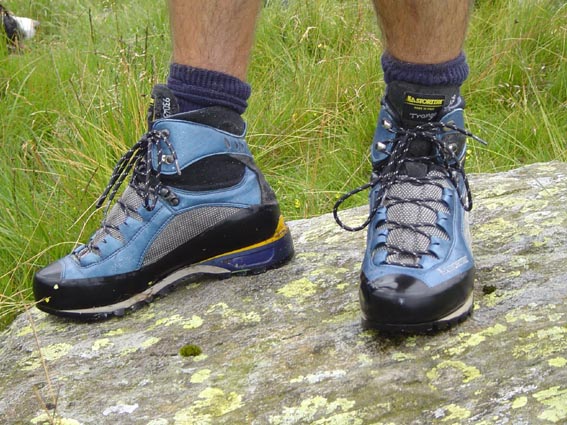 La Sportiva Trango - £160
Bought by Gordon Starkie - A multi-task boot which have just returned from 2 weeks in the French Alps. The first time they were worn (2 weeks ago) was to ascend an 8,000 ft climb. They have an all terrain sole, Goretex liner and can take articulated crampons. They are very comfortable and although a relatively narrow fitting for alpine mountaineering, I had no difficulty with them. They are fully waterproof as tested in Patterdale climbing up to Fairfield through the wet grass and bogs.
Added to page 25/7/05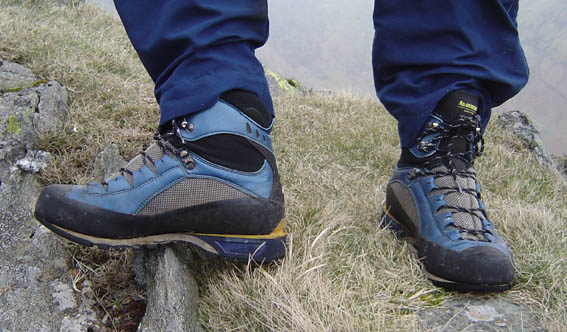 Same boots 11 months on, 50 rescues plus social walking plus a season in the Dolomites
---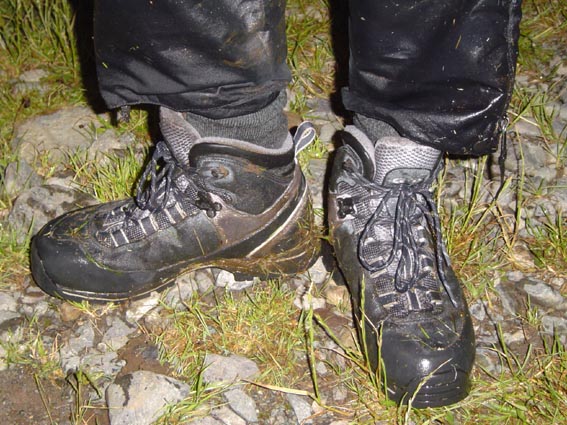 Solomons - Ladies
Saffron's brand new boots after the rescue on 21 June 2005 - seem to have stood up to the stretcher carry and wet conditions. Team were more tired than the boots - this photo taken at 03.00 am
Added tp page 22 June 05
---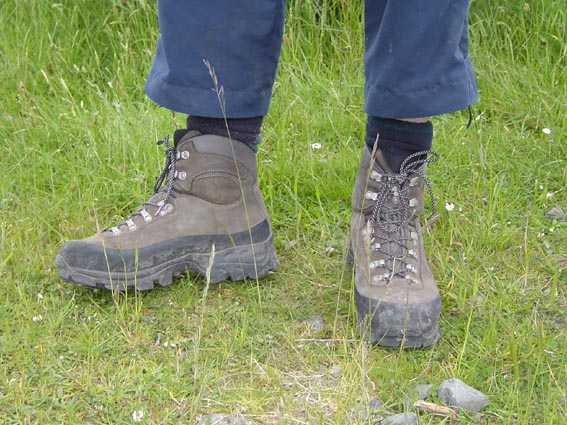 Scarpa ZG10 GTX £140
Bought by Julian Carradice - verdict very good but a bit too bendy for scrambling. Wanted to replace his Kefas with Kefas but the original design / style is no longer available.
---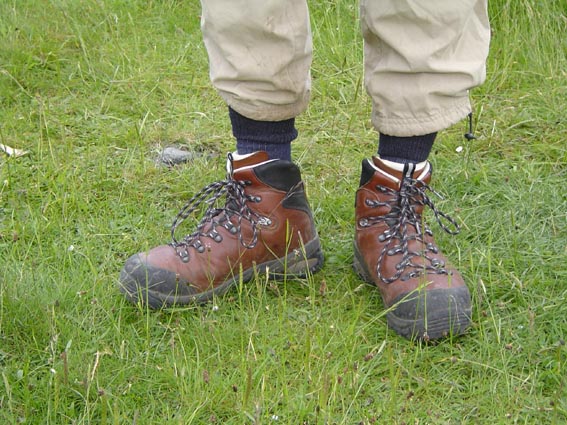 Raichle - Gore-Tex Lined - £120 www.raichle.ch/
Bought by Ben Whiteley - excellent pair of boots
These are the more solid of the two models of Reichle three season leather boots that are currently on the market. I can't remember the name but they are the brown leather ones rather than the blue leather ones.

I have owned these boots for a few months and found them to be excellent. They are a tough full leather boot with a Gore-Tex lining which makes them suitable for all conditions except frozen snow or ice. The construction is solid and the craftsmanship and manufacture are of traditional high quality. Likewise the materials are high quality and selected to handle rough terrain. The leather is shiny side out as nature intended so it sheds mud rather than soaking up like a reversed leather does. This is
no lightweight boot that will fall to bits after a single summer and for that there is a slight but worthwhile weight penalty.

They were comfortable from the first outing and are suitable for wider or flatter feet. They are flexible enough for walking all day but stiff enough for scrambles and even low grade rock climbs. With the exception of crampon work they are a very good choice for all round mountaineering. Despite the heavy construction I have not found these boots uncomfortably hot even in mid summer. The tread and footbed construction provide very good grip and give the wearer a confident sure footedness. The rubber toe cap protects the leather from the inevitable scrapes when scrambling on steep ground.

I would recommend this boot for year round mountaineering, especially when the owner gets out frequently and wants a boot that will last. This is not a boot for true winter conditions, but the manufacturer does not claim it to be. I would not recommend it if the wearer only does a few summer rambles and always stays on a made path, simply because they will be hauling around weight on their feet that they don't need.

---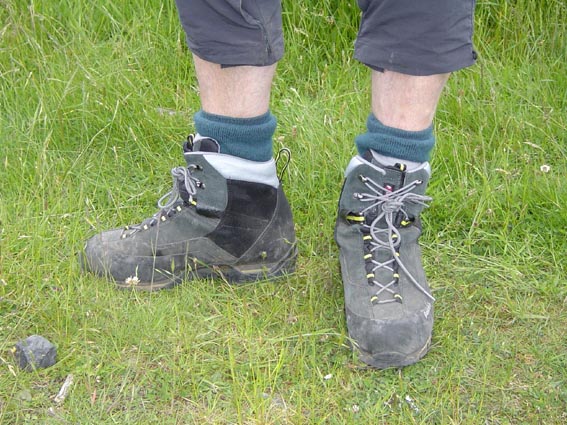 Raichle All Degree Lite Gore-Tex - £120 www.raichle.ch/
Bought by Richard Warren - First class scrambling boot, narrow fitting and light. First used as a brand new pair on a 2 day backpacking trip with full load only suffered two blisters on small toes. Used them scrambling up Lord's rake and the steep grassy slopes above the top of the Rake. Also for climbing on Broad Stand - very good and very comfortable.
Had wanted to replace my aged and holed Kefas boots with the same make but they are no longer manufactured so bought these which were an excellent choice. This design was reviewed in July 2005 TRAIL magazine and was highly recommended ............"Stiff, lightweight, waterproof: it's the perfect year-round boot for mountaineers"
Same Boots - 10 months on - photo taken above Ullswater 14/4/06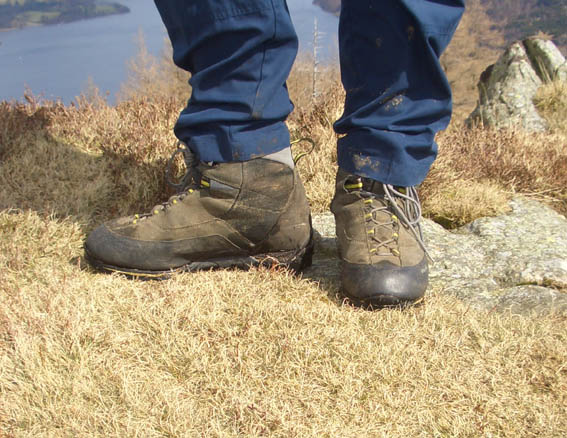 Boots still very comfortable and are keeping my feet dry in extreme weather conditions - only wear is on stitching running down from the heal - tread still OK and this is after 39 rescues and numerous scrambles and fell walks - still a very good pair of all round mountaineering boots - have not used them with flexible crampons though
---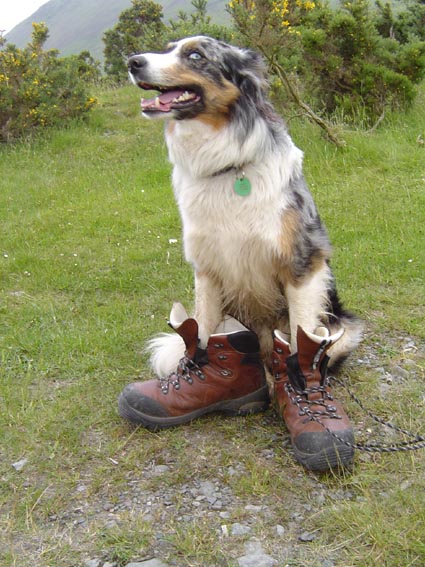 Raichle www.raichle.ch/
Martin Young's Dog - very comfortable and great for getting up close to the sheep when they are cragfast. However, a bit of a hindrance when jumping over gates or getting into Martin's car.
---

The following picture is again of dog boots but these are the real Macoy - we rescued Prince from the summit plateau of Scafell Pike on 22 July 2006 with cut paws - his owner sent us this picture to add to the Truelife rescue story page which you can read here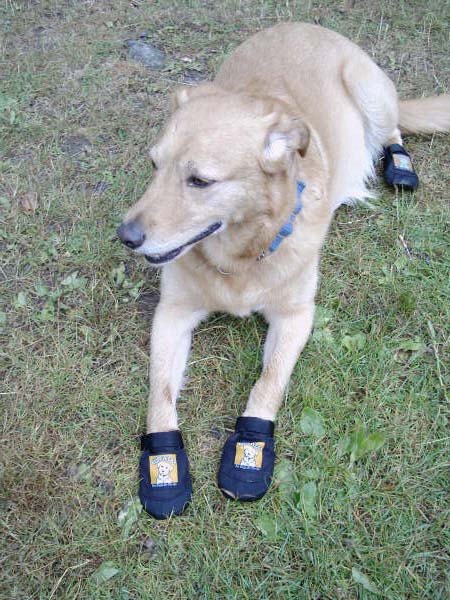 This is an extract from the note we received from his owner..............
"Hope you like the picture of Prince with his new walking boots on, they cost me £32 from Outdoor Warehouse in Windermere. He hasn't tried to get them off yet so they must be helping him, mind you he is so laid back that it wouldn't bother him anyway!"

Page created 12/6/05