The following is a true-life rescue story as retold by one of our team Supporters who was fortunately walking the same route as the two ladies who suffered the accident.
---
Extract from the Incident Log
7:32 14/06/07 ( 12.15 p.m.) - Thursday
Team paged by police to attend a rescue on the Screes path. Casualty was a 74 year old lady from Liverpool who had taken a short tumble fall on the Screes path, suffering a bump on the head and bruising her back. She had walked across the boulder field before calling for help. She was given analgesia and then assisted to walk to boat (20yards), ferried across Wastwater to Cross walls and then given lift back to her car in Eskdale.
There were 18 team members on the rescue including the boat squad. The incident was closed at 3.15p.m.
---
So that is where the money goes (or how I found out what Wasdale MRT spend our money on!)
I have regarded, somewhat cheekily, that being a supporter of Wasdale MRT and doing the odd bit of fundraising, is a bit like taking out insurance – you pay the premiums and hope not to have to make a claim. Well recently I had the opportunity to see at first hand the Wasdale MRT in action.
It was what I sometimes describe as a "typical Cumbrian day", all grey and grizzly. The tops were clouded out, and I decided to choose between Threading the Needle and a wander down the Screes. In the end I decided on the walk down the Screes, up the Greathall Gill path and over Illgill Head, because I have done this walk several times before, know what to expect, and know that it is within my skill level.
So I bumbled off from the National Trust campsite heading down the eastern shore, with the wind and drizzle on my back. The rocks were a bit slippery, but not too bad. I wasn't hacking along but just taking my time. After about 90 minutes I had covered nearly three-quarters of the Screes and was somewhere below Low Adam Crag approaching the big boulder field. At this point I caught sight of two people in front of me, moving very slowly, one down by the shoreline, the other somewhat higher up and closer to the line I was taking. As I approached nearer, I could see they were both using trekking poles and was formulating a bit of glib advice along the lines of "it's easier to use your hands". Unfortunately I didn't get a chance to use this bon mot as the person (it turned out to be a lady) asked me if there was a way up to the top because "it looks nice and green". I assured her that although it looked nice and green in places, there certainly wasn't a practicable route up there, for folks like us.
On enquiring why she was contemplating such a route, it turned out that her (also female and aged 70+) companion had fallen, hurt her back or ribs and banged her head. They were not carrying a mobile phone, hadn't seen anyone else and were starting to get a bit desperate, hence the plan to try and climb up, and did I have a mobile phone and could I call the MRT please?
At this stage I wasn't sure if the MRT were needed, the casualty didn't appear to be bleeding and so I clambered down wondering how to diplomatically tell her to get on with it. However it soon became clear that she was in a lot of pain from just sitting still and breathing hard hurt her more, and that although she had no obvious head injury, they don't have to be obvious to be potentially serious. It was quite clear that her companion and I weren't going to be able to get the casualty off the Screes unaided.
One of the few low-level locations in Wasdale where you can get a (poor) phone signal happens to be along the lakeside path, so I climbed up a few metres and found I had about 1one bar of signal, dialed 999 and asked for Police – Mountain Rescue. OK, it seems obvious now, but what I should have done was to get an accurate grid reference nailed down before making the call, instead of talking to the operator via a poor signal, and trying to open out a map in the wind with my other hand, work out where we were and get the grid ref right, and it's at time like these that your mind goes mushy and you can't remember whether it is eastings or northings first! Oh and of course it would have been much simpler if I had packed the GPS that morning. If.
Call made, we settled down to wait. I offered use of my bothy bag but the casualty declined to use it, maybe I should have been more assertive? Anyway she was well dressed for the conditions, seemed quite warm and in reasonable spirits, especially now that contact had been made, and conversation turned from the important (how will we get off here) to the mundane (We'll be late getting to the B&B in Keswick). Shortly my phone rang, it was Wasdale MRT confirming our position, the team were assembling at Gosforth and would be with us soon. I confirmed we were on the Screes and about opposite the shelter on the western bank where the roads from Greendale and Nether Wasdale meet. We laid out the bothy bag beside us as a big red target, and used camera flashes to mark our position. I also had an emergency strobe, but, well, um, I have to admit it hasn't had a new battery in it this year. It wasn't long before we saw a Land Rover towing a boat arrive, and then head up towards the Northern end of the lake. That was a bit mystifying as the map marked several landing stages on the opposite bank that were closer. Perhaps they just like riding in the boat!
As we were discussing this, there was a clatter from up the screes and several men carrying unfeasibly large rucksacks at an unfeasibly fast rate, almost running across the boulders, arrived, and I could see a well practised routine unfold as they took details, checked the casualty, managed to get a lot of bodies into a large emergency shelter, administered painkillers and called up the boat team. Shortly a team doctor arrived to check the casualty. It was decided to evacuate the ladies by boat, I declined the offer of a ride, to continue my walk and, well, it did look rather choppy out on the water, as the wind was picking up.
Thank you to all the team who got dragged out of nice dry warm offices on a wet Thursday morning, and I hope you won't take it the wrong way if I say I hope that I don't have to call you again!
Lessons? Well get that grid ref before phoning, check batteries in emergency equipment before each trip, be more assertive when dealing with possible casualties and get them into shelter.
Ah well, I suppose I had better sell some more car stickers!
Tim
Supporter Wasdale MRT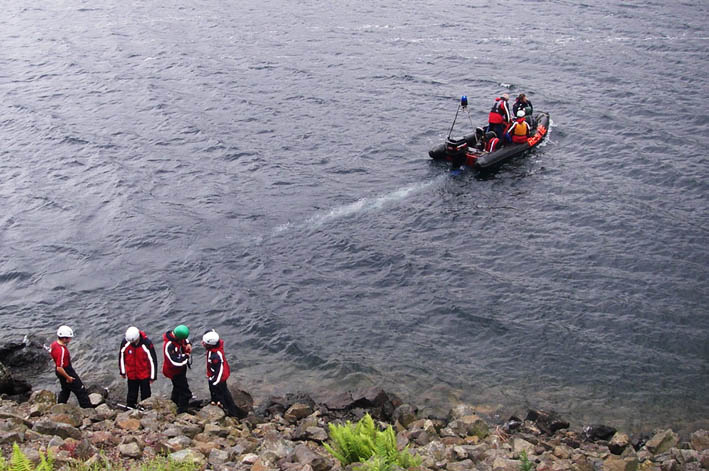 Team rescue boat taking the two ladies back to the far shore of Wastwater. This photograph taken by Tim, the WMRT Supporter who helped the ladies and called the team out.
More photos added 2/7/07 provided by the casualty and reproduced here with her permission
Casualty being given first aid and being helped down to the boat
---