Pager goes off on a Friday lunchtime, must be a reminder about the auction tomorrow I thought until I actually read it and saw it was a casualty on Mickledore. My mind starts racing. Today I'm the looking after my two and a half year old son while his mother is at work, so first things first I'm going to need to find a baby-sitter fast! All my gear is already packed and ready to go in the car (as it always is) so that should take no time. Two quick phone calls, one to tell my wife where I am, and more importantly where our son will be! And one to another team member who lives at the head of the Wasdale Valley and sometimes has trouble receiving pager messages, so I call to let him know.
A quick change, and baby-sitter sorted and I'm off, I radio base from my car to see if both advance and main party have left, which they have so I let base know I'm on my way and arrange to meet them at the Bracken Close at the bottom of Brown Tongue, the fastest way up to Mickledore.
Climb to the casualty
I arrive at the same time as the main party so no time lost, Grab the remainder of the equipment that is needed to take on the fell and off I go. I now wish I hadn't gone for a run with the dog this morning and conserved energy instead. We decide who will carry what on a rescue on the way there in the team vehicles, so as I came here under my own steam I'm not carrying much team gear, which makes my progress a bit quicker. At the moment we know the Casualty is somewhere around Mickledore so heading up the fell with team members are a 200 metre rope, a full crag set (climbing equipment), various other ropes at around 60 metres each. First aid kits, bivvy bags, splints, Vacumats, medical equipment, oxygen, entenox and a host of other stuff as well. We're not carrying a stretcher today, as there is one in our rescue box at Mickledore ready to be picked up as we pass, so that has saved two people a heavy slog up.
The weather is clear and I'm soon making good time up the path, which is busy today with people making for Scafell Pike, always a popular fell. They look with interest as red faced we tear pass them, radios blaring out instructions to us all. By the time I reach the Hollow Stones area the advance party has reached the casualty and fetched the stretcher down to him from our box. They have called for Helicopter assistance if possible as getting this chap to a hospital quickly is all important, I can't hear it yet but am informed one is on its way.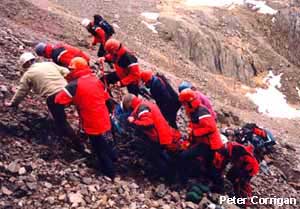 'Most books warn against the dangers …'
The injured chap has fallen off an area known as Broad Stand on Scafell, which is often used as a path between Scafell and its bigger neighbour Scafell Pike, to save the much safer option of going by Foxes Tarn which involves losing some hard gained height and as such is not popular. It is a short cut that has caused a lot a problems for a lot of people and is one of our blackspots as we are often called to injuries in this area, many of them serious ones as well. The route goes through a craggy area with a series of difficult rock steps which if slippy or icy (as they are today) mean a long fall and horrible landing on a scree slope below. Most books warn against the dangers of this route, and advise not to use it, but people are tempted by the directness and often end up regretting their actions. Personally I wouldn't use it, except with a rope, treating it like an easy climb, but perhaps I'm more cautious than most. I just hope that this chap hasn't been hurt too badly.
After an icy scramble up the final section of Mickledore I arrive on the ridge just as it starts to sleet in the wind, no time to admire the view I make my way with another team member over to the accident site. The helicopter has arrived and is waiting for us at the top of Pikes Crag, I hope he will move and come closer after we have sorted the casualty out, it's a long way up hill to where it is now! The advance party and doctors have made the casualty comfortable, given first aid and put him in a Vacumat on the stretcher and he is now almost ready to be moved.
An uphill carry
We will need to bring him up to the ridge and then move him on the safer ground, so two of us set up a belay to keep him safe while the rest of the party carry him up to us. We will attach a rope to the stretcher and so ensure its safety while it is moving. One team member moves to the other side of the ridge on awkward ice and snow and takes position to belay, while I sort out the rope and put myself in a position to pull it and pass information to him. Another team member takes the end of the rope to the stretcher and attaches it, now that we are all ready and waiting for the stretcher party to move, I put on my helmet and wait for the signal…
Once the party starts moving we take in the rope to secure the stretcher and soon we are all standing atop the ridge, and it becomes obvious that we must carry the casualty up to the helicopter. Now that the stretcher is safe, we remove the back rope and I help the stretcher party to carry it to the RAF helicopter while another team members dismantles the belay. We move quickly but carefully with our heavy load, stopping to check on the casualty and change sides with other team members, you get very uncomfortable carrying a stretcher on one side of you body all the way and a change of sides is always welcome (until you new side starts aching that is).
We negotiate the scree up to the Pikes Crag area and although I know its not, I'm convinced that the helicopter is getting further away the longer we carry! Even with members of the stretcher party taking it in turns with other team members to carry it is still a slog to carry it uphill! We are normally going down hill with a stretcher and all in all it is the direction I prefer. Once at the helicopter we position ourselves to carefully approach it from the side so that the pilot can see us and take the stretcher to its main door and help to slide it inside. Our team doctor accompanies the casualty in the helicopter and before we know it they are both heading of to West Cumberland Hospital where they should arrive within minutes.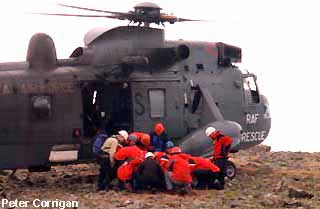 Job done - time for tea
Peace descends upon the Pike once again as we pack up our gear and head back off, just time to have a quick cup of tea and some chocolate before we collect our gear from wherever it was we left it while sorting the stretcher out and set off back down to the (Wasdale) Head again. Going down is a somewhat gentler affair with the urgency now off us all and time now for us enjoy the view and chat with other team members, now that we have the breath to do so. All in all 20 team members have left their jobs to come and help today, hopefully the injured man will make a good recovery, I don't think he could have hoped to have been evacuated from the fell any quicker, and was certainly in good hands!
Back to the vehicles and sorting out the gear, now everyone will head back to our base in Gosforth to sort and put away all our gear for the next time it is needed. In a day or so we will get our stretcher back from the hospital and two of us will carry it back up the stretcher box so it is there when it is needed again.