Rescue Pictures Page
16 year old D of E Silver Student - Stomach Pains
Monday 27th March 2006
---
/12:27/03/06 ( 12.52 p.m. ) - Monday
Following a '999' call to the police the team were called out to rescue a 16 year old student in a party of seven who had collapsed with stomach pains and was feeling unwell and could not walk. The group had traveled up to the Lake District at the weekend from the Leicester area along with a much larger group undertaking Duke of Edinburgh activities. After being examined by the team doctor and warmed up in a bivvy tent, the unwell walker was carried off the mountain by stretcher to the waiting group Leaders in the valley bottom. Stretchered down to the valley bottom and transferred to the leader's car and taken back to the youth Hostel. No ambulance nor hospitalisation necessary – 23 team members were involved in the incident which was closed at 4.00 p.m.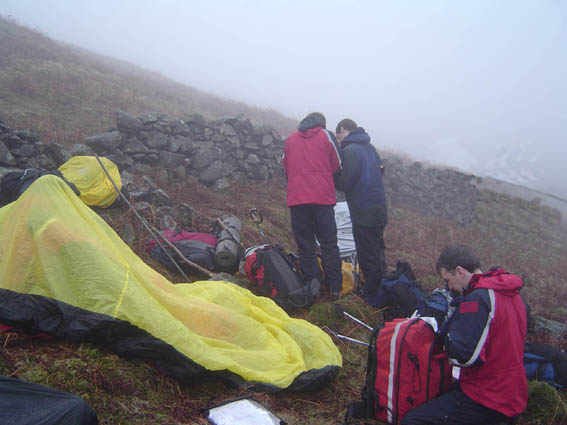 The casualty is being treated by the team doctor inside the yellow bivvy tent. This keeps him warm and dry while we wait for the rest of the team to arrive with the stretcher and backropes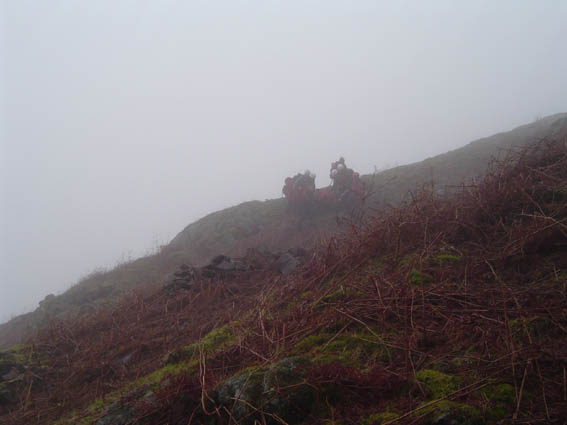 Although the casualty site was not a great distance from the village of Boot, it was well up the fell at the top of a very steep, wet and slippery grassy rake. The stretcher is securely belayed to the rocks while the stretcher party carry and slide the casualty down the mountain side.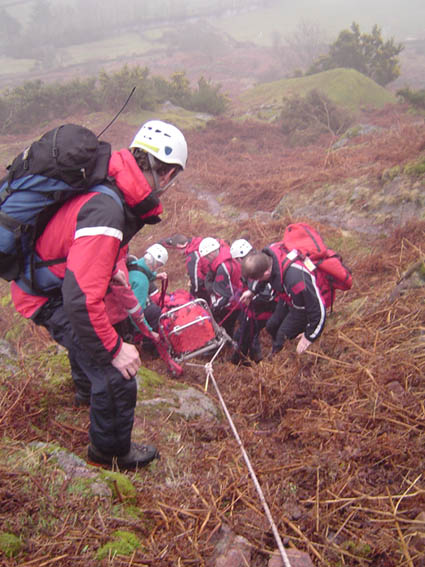 The steepest part of the descent. We are out of the mist and the river Esk can be seen in the background. Only 20 minutes to go before we will be safely down to the car park.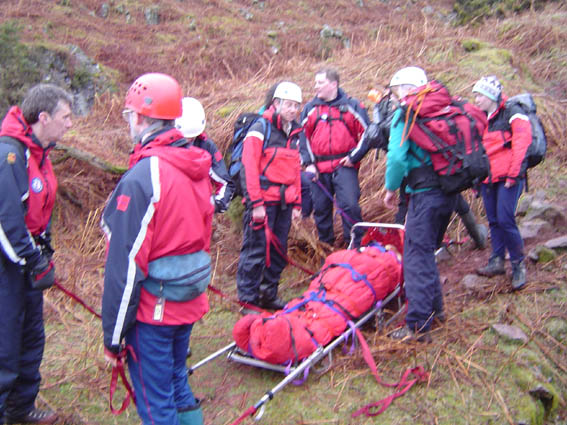 The casualty is safe and snug inside the casualty bag on the Bell stretcher
Page created 27/3/06