6/10:12/03/06 ( 9.10 a.m. ) - Sunday
The team leader was called by the police to rescue the occupants of five stranded vehicles on the A595 road between Waberthwaite and Bootle. A snow plough was also blocked in with a digger working its way towards the stranded cars from the south. The team had already put themselves on standby due to the sever snow conditions in the county. Kendal and Langdale team were also carrying out similar rescues in their areas.
The team landrovers had to battle their way through the deep snowdrifts, digging out other stranded motorists on the way before eventually grinding to a halt approximately 2 miles from Bootle. Whilst the two landrovers tried in vain to find an alternative way round, two team members battled on foot, checking abandoned cars as they passed them and eventually arriving at the stranded cars just before the digger arrived to free the snowplough. The cars were cleared by 12.00 p.m. and the team were then called to rescue a stranded lady motorist back towards Muncaster Bridge.
Trying to get the vehicles back to Broad Oak proved impossible, even though alternative routes were tried. The vehicles could get back to within half a mile of Broad Oak by crossing fields. When it was looking like the vehicles themselves might have needed to be abandoned due to the worsening conditions, a lone digger from Workington arrived to clear the short 1/4 mile section of road that the local farmers had been unable to clear. The team returned to base but still had to effect a number of rescues on the way back. Incident(s) was closed at 5.00 p.m.
St. Bees main street at 9.00 a.m. wakes up to a snowy morning - we only got through by good driving on Rob's part. An hours later and the whole village was cut-off.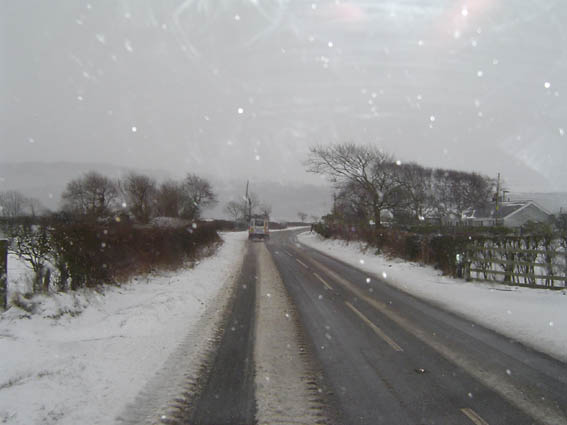 On the way to Broad Oak - roads look OK so what's all the fuss about?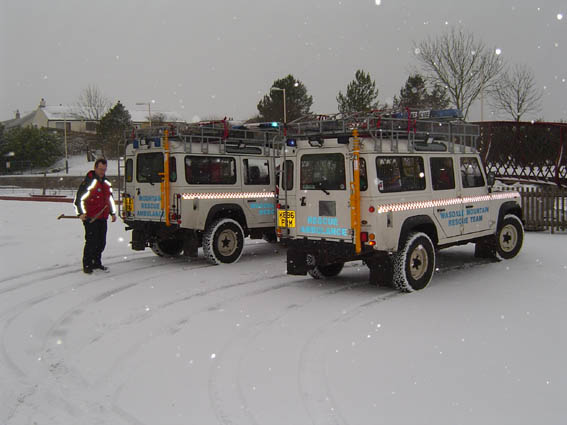 Collecting heavy duty shovels from the Ratty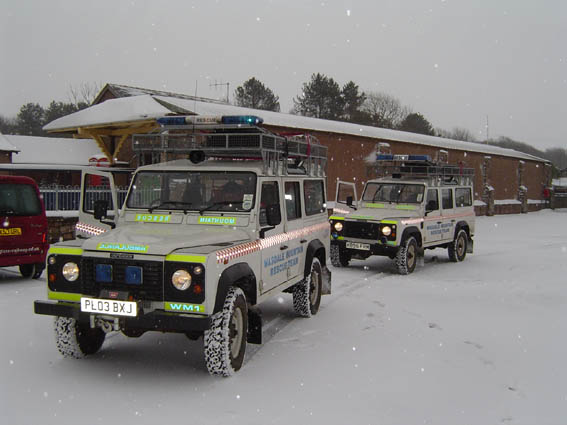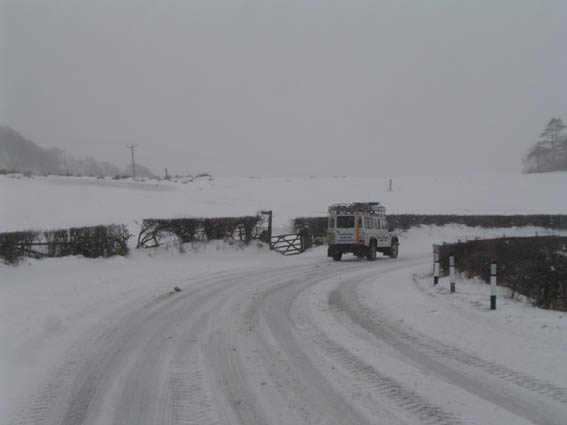 Nearing Corney and the tarmac disappears ................hmmmmmmmmmmm.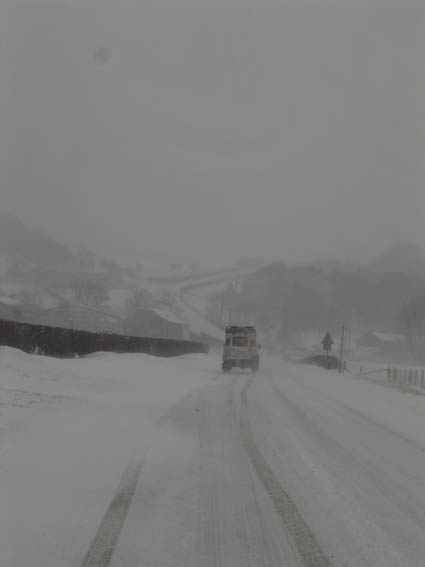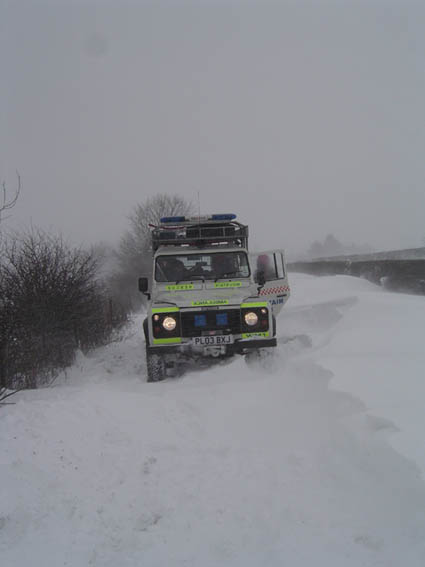 Yes - this is the main trunk road into south Cumbria - only passable with a landrover. When we returned 4 hrs later we couldn't even dog our way through this section - the drifts were up to the bonnet. We had to divert through the field on the left of the picture.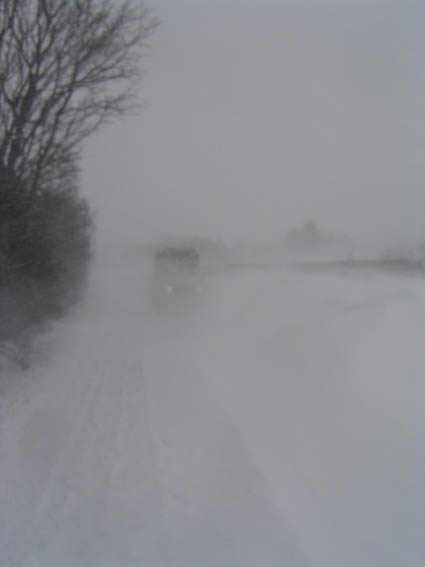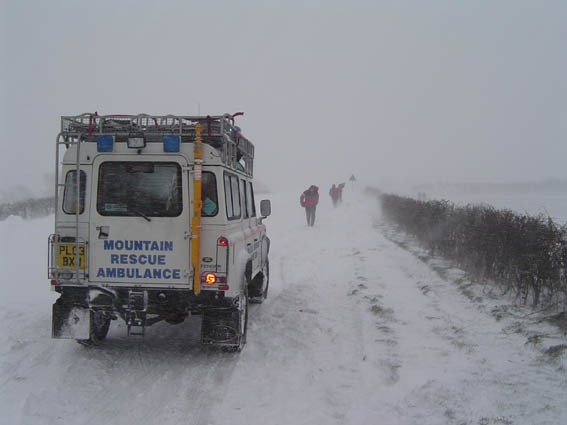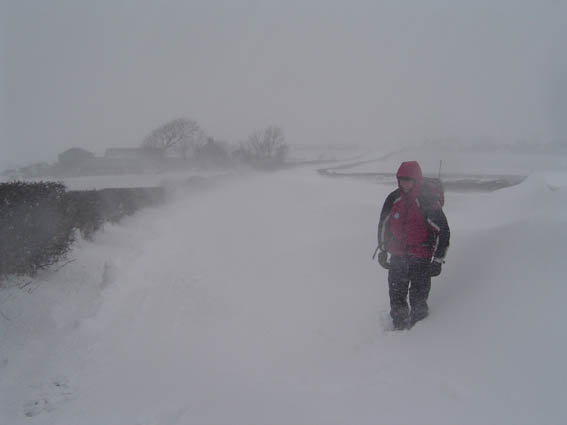 The vehicles could only get as far as the far horizon before grinding to a sudden halt and trying to find a way round by the estuary - the only way to check the road out and get to the stranded vehicles was on foot. Full winter conditions as you would expect on any Scottish plateau and not 200 foot above sea level.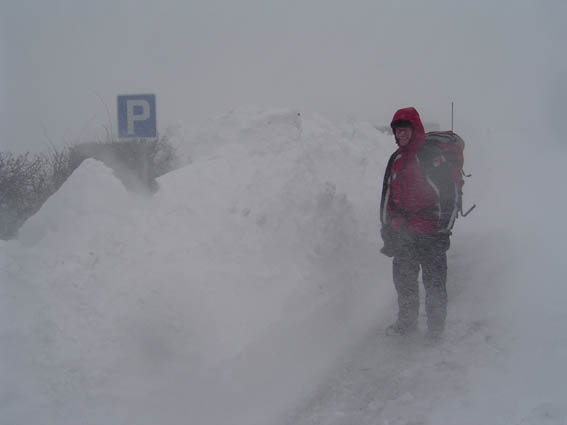 No place to park
Wait for the Spring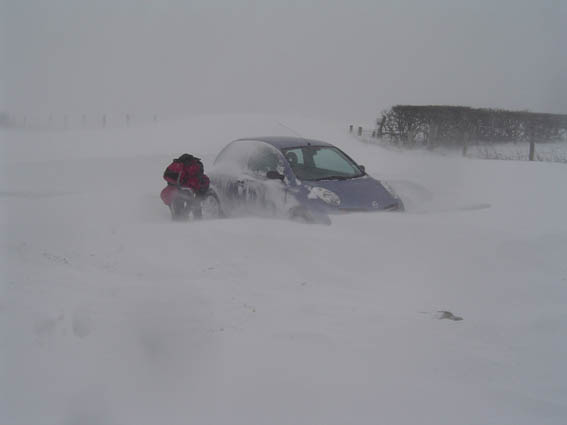 This car well abandoned - no one in it though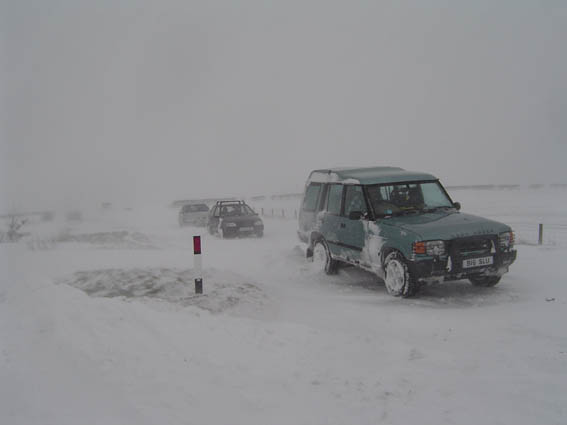 We reach the starnded cars on foot - the Range rover has been there since 7.30 a.m. this morning - night shift workers returning home from Sellafield - only 1 mile from Bootle but the 10 foot drifts stopped both them and the snow plough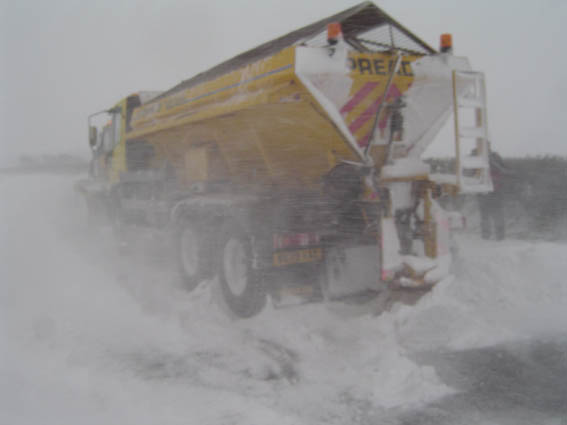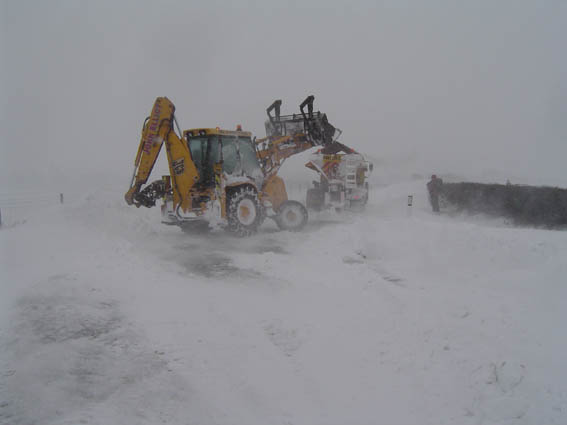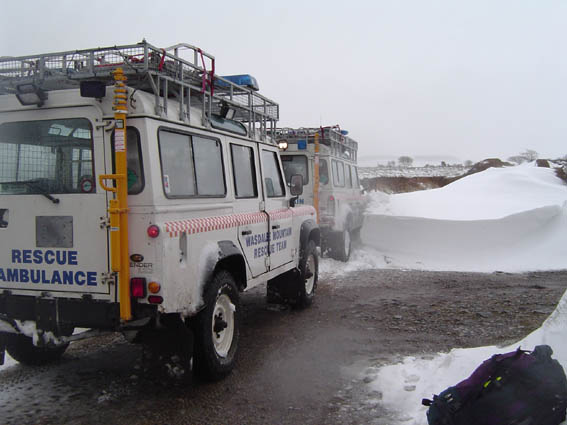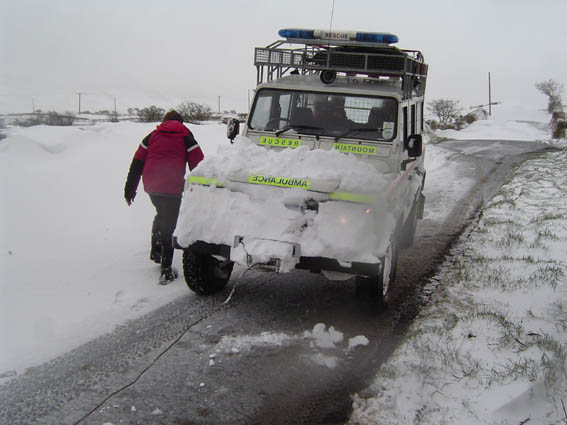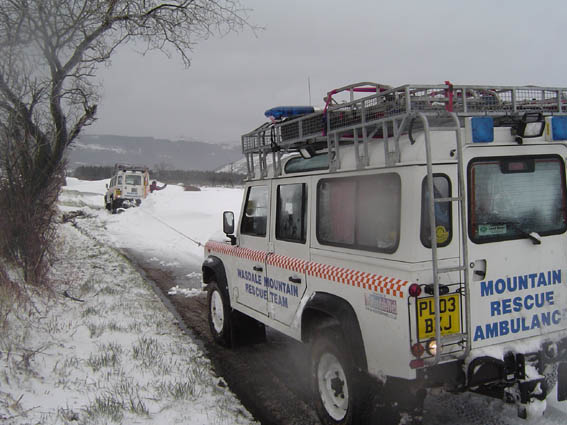 No route down the Corney Fell road to safety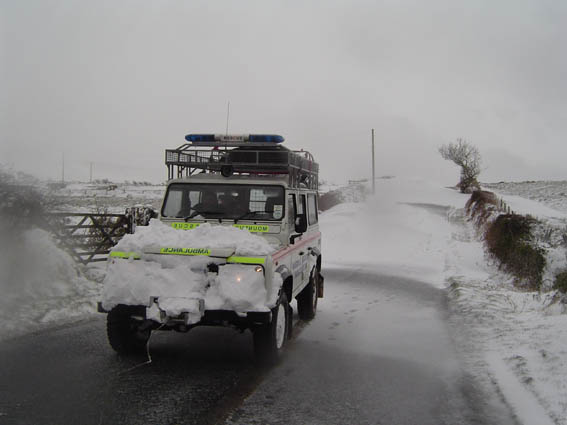 Corney Fell road - well blocked with 10 foot drifts
Well done to James who brought his JCB from Workington to rescue the rescuers - the last 500 yards cleared which allowed us to break back through to Broad Bank from our marooned position near Waberthwaite