Rescue Team call-outs - October 1993 to November 1994
---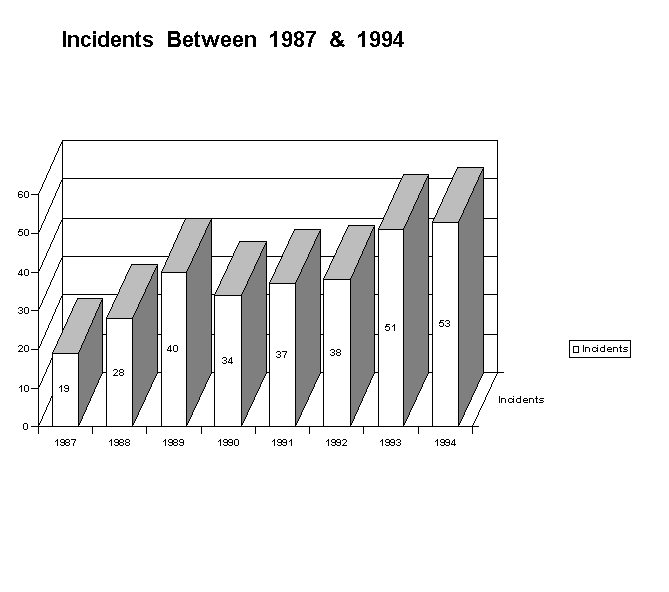 Wasdale Mountain Rescue Team Call-Outs
December 1993 - November 1994
DECEMBER 1993
1 12th
7.15 pm: Hoax Call, Broad Crag Col area. Report from police of a walker hearing distress signals 2 hours previously. Weather appalling all day, being dark at 3 pm with heavy snow. Story was regarded as dubious. No-one was reported missing, so no search made.
2 21st
4.45 pm: Fellwalking, Scafell. Two twenty-year old and one seven year-old males reported overdue on camping/walking trip to Scafell. Turned up at home in Leicester after car had broken down.
3 29th
8.35 pm: Fellwalking, Langdale to Wasdale. Two males 33 and 37 years-old overdue on walk from Langdale to Wasdale. Turned up at 8.50 pm.
JANUARY 1994
4 15th
5.00 pm: Fellwalking, Scafell. 50-year-old male, experienced walker, slipped from path under East Buttress and fell 200 ft sustaining head injuries. Airlifted by RAF Boulmer after first aid and transfer by team.
FEBRUARY 1994
5 3rd
5.45 pm: Fellwalking, Greengable/Brandreth area. Two males lost and poorly equipped called police on mobile phone. Search by Cockermouth and Keswick teams failed to find them. Wasdale asked to assist. Turned up safely in Borrowdale.
6 12th
2.30 pm: Fellwalking, Scafell. 26 and 36 year-old males with 7 year-old girl got to first col on Lord's Rake on very hard snow. Unable to go up or down. Team on way up fell as the party were assisted off by a member of Langdale team who was climbing in the area.
7 19 th
3.40 pm: Fellwalking, Windy Gap, Great Gable. 10 year-old boy with leg injury brought down by Keswick team. Wasdale called to same incident, unaware Keswick were attending.
MARCH 1994
8 8th
11.45 am: Fellwalking, Scafell Pike. 28 year-old student on 24 hour initiative test spent night on Scafell Pike. Should have returned to Langdale by 8 am. Turned up at Boot, Eskdale at 12.30 pm after navigational error.
9 11th
5.00 pm: Fellwalking, Slightside, Scafell. 50 year-old male slipped and sustained multiple fractures to his ankle. Team called to assist Eskdale OBMS with evacuation.
10 12th
7.40 pm: Fellwalking, Wasdale to Buttermere. Two males overdue on hostelling trip from Wasdale to Buttermere. Wasdale and Cockermouth teams alerted as the pair turned up in Buttermere.
APRIL 1994
11 2nd
2.30 pm: Fellwalking, Dorehead, Yewbarrow. 14 year-old boy collapsed with exhaustion and exposure. Had apparently collapsed on the previous day, but still went on the walk. Stretchered off.
12 26th
2.05 pm: 60 year-old female blown over by the wind. Sustained a very painful fracture and dislocation of her right upper arm. Needed an amazing amount of analgesia.
13 30th
10.20 pm: Rock climbing, Napes Needle, Great Gable. Two males left Wasdale Head at 10.00 am to climb Napes Needle. Turned up safely at 10.20 pm.
MAY 1994
14 1st
4.25 pm: Fellwalking, Lingmel Col, Scafell Pike. 11 year-old boy slipped and cut his lip. Mother requested the Rescue Team. Discussion between informant, police and Team Leader lead to team not being called out. Boy walked off OK.
15 28th
4.00 pm: Fellwalking, Little Hellgate, Great Gable. 12 year-old boy slipped and tumbled on scree and sustained laceration of temporal area. RAF Boulmer in area airlifted boy to hospital.
16 29th
11.35 pm: Social problem, Yewbarrow. Two 15 year-old boys with social services group absconded. Lights seen on Yewbarrow. Youths threw stones at the team as they approached. Eventually talked down and escorted off the fell.
JUNE 1994
17 1st
6.00 pm: Fellwalking, Yewbarrow. 49 year-old male collapsed with fit. Stretchered off.
18 2nd
8.40 pm: Scafell Pike. Two males overdue on fellwalk. Turned up at 9.15 pm after making a naviagtional error and - yes, you've guessed it - walking down Eskdale.
19 4th
6.20 pm: Rockclimbing, Central Buttress, Scafell. A 20 year-old competent climber was ascending the Flake Crack. He placed a runner on the chockstone and continued almost to the top of the flake before slipping and falling onto the runner, finishing up on the Oval. Unfortunately the chockstone pulled out and hit the climber causing fatal injuries. Casualty and companion evacuated from the crag by the team and transported to Wasdale Head by RAF Boulmer. A tragic entry in the history of Central Buttress.
20 9th
8.30 am: Missing person, Wasdale Head. Male with psychiatric history left car at Wasdale Head over a week before, wearing only casual clothes. Areas he may have gone to were searched. Nothing found.
21 11th
9.30 am: Missing person, continued. Search continued along the lake shore and the edge of the lake, by boat. Nothing found. Turned up in police custody in Preston on burglary charges.
22 16th
7.50 am: Missing persons, Scafell Pike. Party of four males from Salford University doing 3 Peaks, long overdue. Turned up at 9.45 am - no, not in Esdale, but in the Old Dungeon Ghyll, Langdale. (Whoops!).
23 18th
12.30 pm: 4 x 3000 ft Peaks race, Scafell Pike. Male competitor unable to continue due to exhausiton/hypothermia. Stretchered off. Weather appalling for June. Apparently only about 1/3rd of competitors finished.
24 25th
6.00 pm: Fellwalking, Lingmel Col. A 44 year-old female slipped and badly sprained her right ankle. In a great deal of pain. Stretchered off.
25 25th
10.45 pm: Fellwalking, Scafell Pike. A party of 3 lost their way in thick cloud. 'Nigel' used his cell-phone to dial 999 and asked for directions from the team. He switched off the phone to save his batteries and our telepathy wasn't working very well. Eventually they found their way back to Wasdale Head and complained because nobody had called them back!
26 26th
2.40 pm: Fellwalking, Buckbarrow. A 44 year-old male slipped and dislocated his left shoulder. Unable to walk off due to the pain.
27 30th
5.30 pm: Cragfast sheep, Buckbarrow. Request from local farmer to free 2 cragfast sheet from the Witch Buttress area. Successful.
JULY 1994
28 8th
10.25 pm: Cragfast person, Stanley Ghyll, Eskdale. A 25 year-old male became cragfast 20 ft from the top of the water falls whilst swimming and beck-scrambing. After 3 hours of being attacked by midges he was more than pleased to see the team!
29 12th
7.00 pm: Fellwalking, Blackcombe. Call to back up Millom team in search for overdue walker who was found safe and well before the team was mobilised.
30 16th
12.25 pm: Rockclimbing, Pisgah Buttress, Scafell. A 28 year-old male from Newcastle fell 80 ft and arrived next to his second quite suddenly after failing to clip a runner. Thought to have back and chest injuries. Lowered off crag by team and flown by RAF Boulmer to hospital where X-rays revealed no fractures. Lucky lad. His second had rope burns to his hands.
31 17th
4.15 pm: Duke of Edinburgh Expedition, Whinrigg. A 15 year-old boy from Merseyside collapsed with stomach cramps and hyperventilation, his second attack in 2 days. Stretchered off and returned to care of organisers.
32 17th
10.10 pm: False alarm, Rakehead Gully. A party camping at Wasdale Head heard what they believed were cries for help and thought they could see a man with a rucksack who had not moved for over half an hour. As no one was reported missing, I watched the end of the World Cup Final. A search would have been much more interesting. Well-intentioned false alarm. (Not the Cup Final.)
33 19th
5.30 pm: Fellwalking, above Cam Spout Crag, Eskdale. A 47 year-old female slipped and fractured her lower right leg. RAF Boulmer airlifted her off, saving the team a very long stretcher carry.
34 20th
12.35 pm: Fellwalking, Stoney Tarn, Eskdale. An OBMS party came across a couple camping at Stoney Tarn. On waking the young woman had been unable the open her eyes due to oedema, so was unable to move safely. The team gave anti-inflammatory drugs and carried her down to the couple's car at the Woolpack Inn. Allergic reaction to unknown substance.
35 21st
10.45 pm: Fellwalking, Scafell Pike. A 50 year-old female from Ripon became exhausted and was reported as unable to continue by her son. She managed to get down to Wasdale Head just as the team were setting out.
36 25th
3.00 pm: Fellwalking, Scafell Pike. A 10 year-old member of a party of scouts got out of control running down Mickledore Screes. After going head over heels, he landed badly and fractured his left arm and injured his head and right knee. As he only weighed about 6 stones he was a delight to carry down.
37 27th
8.20 pm: Fellwalking, Brown Tongue. A 59 year-old female slipped whilst crossing the stream at the base of Brown Tongue. She fell into the stream and fractured her left arm just below the shoulder.
38 28th
6.05 pm: Rockclimbing/fellwalking, Heron Crag, Eskdale. A 38-year old climber from Pudsey had just finished climbing and was making his way to his car when he slipped and broke his right ankle on the path. Stretchered off.
39 28th
9.30 pm: Outward Bound expedition, Scafell Pike. A 17 year-old girl camping at Broad Crag Tarn had a panic attack and started hyperventilating. She was stretchered to a helicopter from RAF Valley and flown to hospital.
AUGUST 1994
40 8th
6.20 pm: Fellwalking, Spouthead Beck. A 34 year-old male slipped on the path sustaining a very nasty fracture/dislocation of the left ankle. Stretchered off.
41 10th
4.00 pm: Sightseeing, Yew Crag, Hardknott, Eskdale. A party of mentally handicapped people were admiring the view from the top of Yew Crags when Michael slipped and bounced over 100 m down a gully. Remarkably he had only cuts and bruises. A very lucky young man.
42 13th
11.20 pm: Scrambling, Pillar Rock. Three males long overdue on scrambling trip had left a very unclear note of their destination. Thought to be Boathowe or Pillar. Turned up at 11.15 pm in Wasdale after having difficulties on Pillar Rock.
43 21st
6.00 pm: Mountian Biking, Ennerdale to Wasdale Head. Father and two sons reported 2 hours overdue on mountain bike trip over Blacksail. Suggested they had underestimated time and effort involved. Turned up at Wasdale Head 9.15 pm. All OK.
44 23rd
5.25 pm: Fellwalking, Lingmell Gill. Woman reported party waving, shouting and whistling at head of Lingmell Gill. Her husband had gone to investigate and would phone back. No call received. Lingmell Gill, Col and Beck (Piers Ghyll) all checked. Nothing found. Well-intentioned false alarm or hoax call.
45 27th
10.50 pm: Fellwalking, Buttermere to Wasdale. Party of four males long overdue walking from Buttermere to Wasdale. Suggested they would turn up, which they did at 12.10 am, all OK.
SEPTEMBER 1994
46 10th
3.50 pm: Rockclimbing, St Bees' Head. An experinced 26 year-old climber was top-roping Andy's Climb (E2 5C). Apparently he had failed to complete the second half of the figue-of-eight knot. When he asked for a tight rope the knot untied and he fell 15-20 feet, breaking his right heel and sustaining injuries to his scalp and wrist. An inherent danger in using a figure-of-eight knot.
47 21st
7.00 pm: Fellwalking, Mitredale, Eskdale. Two males reported 3 hours overdue on fell walk. Exact route not known. Turned up at 8.00 pm, both OK.
48 24th
4.00 pm: Fellwalking, Corridor Route, Scafell. Person with mobile phone reported one of a party of 3 had a bad ankle injury about a mile from Styhead. Whilst the team checked the Corridor Route the party had made their way down to Seathwaite. They bumped into a member of the Keswick team and told him they had not needed or requested assistance. Crossed lines somewhere.
49 28th
2.45 pm: Fellwalking, Stanley Ghyll, Eskdale. A 54 year-old female slipped on the path above Stanley Ghyll fracturing her right ankle.
OCTOBER 1994
50 9th
2.50 am: Fellwalking, Little Narrowcove, Scafell Pike. Party of 4 lost, cragfast, cold and tired. Airlifted out by RAF Boulmer. Alarm raised by cellphone. Otherwise a poorly equipped party.
51 18th
3.10 pm: Fellwalking, Broad Crag Col area. A 16 year-old girl in an OBMS party was overcome by the effects of severe gale force winds. The team transferred her to Lingmell Col for helicopter evacuation by RAF Boulmer.
52 22nd
4.00 pm: Fellwalking, Great Gable. Two members of a party of scouts reported two other members in difficulties with an asthma attack and a leg injury. Arrived at Burnthwaite just as team got there.
NOVEMBER 1994
53 5th
5.20 pm: Fellwalking, Upper Eskdale. Report of female with medical problem collapsed en route from Crinkle Crags to Mosedale. She managed to leave the fell before the team arrived.